The 18th annual British Renewable Energy Awards, were held on June 23 in London, where Virta won gold in the smart energy systems category. The awards of the UK's largest trade association for renewable energy and clean technologies are presented to companies, individuals and projects that are pioneering the renewable energy and clean tech sectors.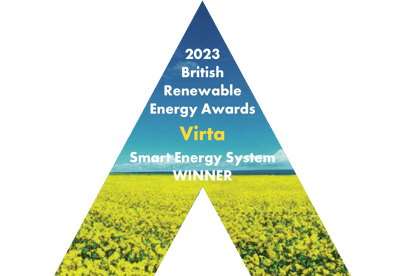 The most valid and innovative solution for today and tomorrow
According to the REA jury, Virta's digital charging platform and the end-to-end charging solution offered to clients enable a rapid transition to e-mobility reducing transport emissions and connecting electric vehicles and renewable energy production in a cost-effective way. The judges recognised Virta for having the most valid and innovative solution by utilising an existing asset base that brings about advantages for all its participants.
"Getting recognised by an industry expert jury at one of the world's most competitive markets is a result of the pioneering work that Virta has done since its founding in 2013. Not only do our market-leading energy management capabilities enable charging point owners to optimise the installation, infrastructure and electricity costs today, but also guarantee their investments are already "futureproof" with the regulatory requirements regarding energy flexibility and demand response.

With the Virta Virtual Power Plant program, backed up by Business Finland as part of the M85€ funding round closed earlier this year, we are determined to extend our lead in this category by commercialising V1H, V2G and other key technologies for the charging point owners", says Mr. Eemil Rauma, project director of the Virta Virtual Power Plant programme."
More about the price ceremony and price category
A total of 18 prizes were awarded in different categories and the award ceremony was held at the JW Marriott Grosvenor House Hotel in London. Virta competed with five finalists in the Smart Energy Systems Award category and won. The award category recognises system/market mechanism or data solution that supports the roll-out, or take-up, of renewable energy and clean technologies whilst enhancing value and usefulness to consumers and Net Zero ambitions.
For more information:
Esa-Pekka Nykänen
Brand & Communications Director, Virta Global
+358 (0)40 595 3135
esa-pekka.nykanen@virta.global
VIRTA – A global forerunner in smart EV charging solutions
Virta is a global pioneer in developing smart electric vehicle charging services. It was ranked on the Financial Times 1000 Europe's Fastest Growing Companies list for the fourth time in a row in 2023.
Virta's digital EV charging platform is used by over 1,000 private and public companies and organisations in retail, hotel, real estate, parking, petrol retail, automotive, and energy industries. These customers operate over 75,000 chargers in 35 countries, forming the "Powered by Virta" network. Through roaming, EV drivers can access over 320,000 charging points in over 65 countries.
Virta is at the forefront of bringing the world to a more sustainable future by making EV charging easier. It has 19 patent families with a focus on energy management capabilities, which are central to the future connected energy and mobility ecosystem.
About the REA
The Association for Renewable Energy and Clean Technology (known as the REA) is the UK's largest trade association for renewable energy and clean technologies with around 550 members operating across heat, transport, power and the circular economy. The REA is a not-for-profit organisation representing fourteen sectors, ranging from biogas and renewable fuels to solar and electric vehicle charging. Membership ranges from major multinationals to sole traders.
For more information, visit: www.r-e-a.net