Virta, an EV charging platform and solution provider and Kempower, a charging equipment manufacturer, both Finnish pioneers in the European electric mobility markets, together with Australian Tetris Energy, revealed their cooperation for the Australian market.
State Secretary to the Minister for Foreign Trade for Finland, Mr Ville Kopra, opened the event held in Melbourne on Thursday 27 October and revealed the first superfast Kempower charger to be connected to the Virta network.
"I'm excited to witness trailblazing Finnish technologies in EV charging contributing to the acceleration of green transition in Australia. Together with Australian partners' strengths in renewable energy, especially solar power production, the potential to fast-track EV charging infrastructure investments and installations and to build long-term business between our countries is evident. The first Virta platform-based Kempower charger marks the beginning of this journey. It is also supported by Business Finland, the Finnish government organization for innovation funding and trade, travel and investment promotion".
The Virta charging station to be delivered, installed and operated by Tetris Energy is equipped with the integrated Kempower DC hardware that allows for the seamless addition of further charging units as the demand grows.
"Looking at the EV sales growth forecasts, now is the right time for Australian organizations to fast-track their installation strategies in the soon-to-be multi-billion-dollar market. The success of fast EV acceleration is highly dependent on the charging infrastructure. From the business point of view, the best locations and basis for future market share are laid within the coming few years. Tetris Energy and Virta's goal is to be the optimal partner for them by bringing the best available solution, including Kempower chargers from European markets," said Mr Frank Boland, Director of Tetris Energy Pty Ltd.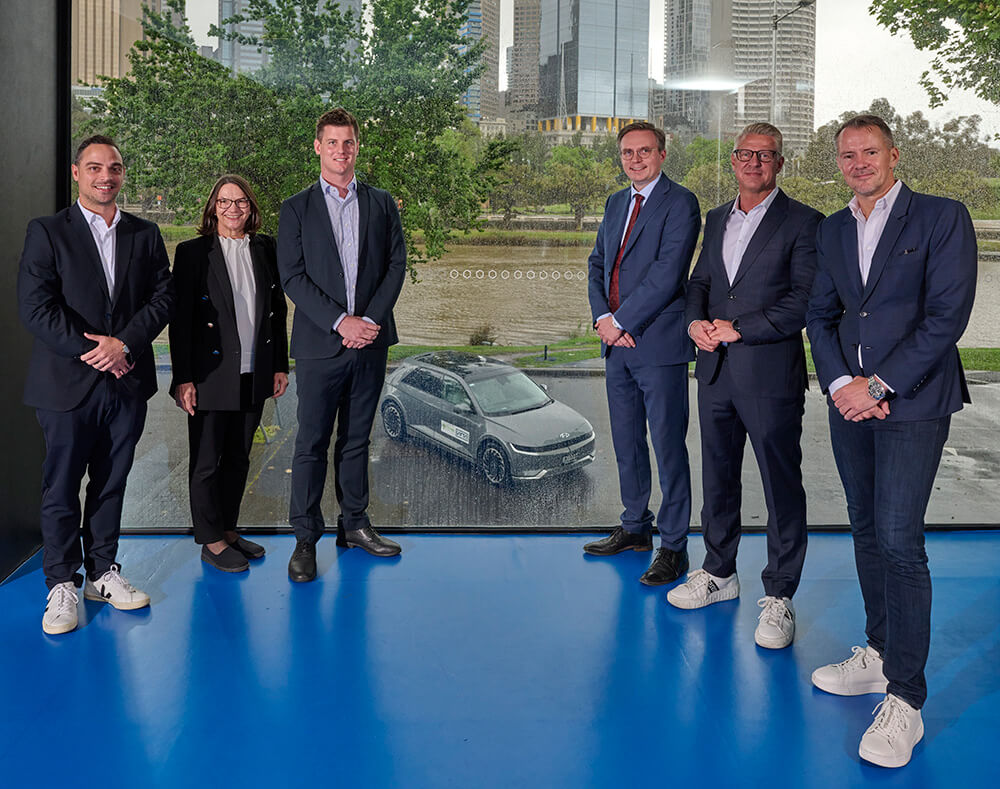 Picture 1:
Chris Panopoulos, Sales Executive, Virta Australia; Satu Mattila-Budich, Ambassador of Finland to Australia and New Zealand; Frank Boland, Director of Tetris Energy Pty Ltd.; Ville Kopra, State Secretary to the Minister for Foreign Trade; Elias Pöyry, Co-Founder, Virta Global and Dave Mommen, APAC GEO Director, Virta Global
ELECTRIC CAR BATTERIES AS PART OF AUSTRALIA'S HYDROGEN ECOSYSTEM STRATEGY?
Elias Pöyry, co-founder and the CBO of Virta Ltd, discussed at the event the pivotal role electric car batteries connected to the energy system can play:
"Australian federal government and the states are strongly committed to the future hydrogen ecosystem, digitalizing energy system and stationary battery storages. However, the pivotal role electric cars can play in relation to energy storages and hydrogen is not yet truly clear in the strategies. In the coming years, we believe electric vehicles are the most cost-efficient way to provide short-term flexibility to the energy system as aggregated resources.

Also, the best benefits of the hydrogen ecosystem may be achieved through using hydrogen in the form of electricity in mobility instead of fuel cells. Virta is enabling state-of-the-art smart charging and energy optimization technologies with experience from the fastest growing e-mobility markets in Europe to allow rapid growth of Australian players in the industry."
More details:
Antti Vappula
Head of PR & Creative Director, Virta
+358 40 560 5062
Chris Panopoulos
Sales Executive., Virta Australia
+61 457 428 807