Companies building a business out of electric car charging should seek to understand what kind of role they're interested in taking. The yin and yang of EV charging are Emobility Service Provider (EMSP) and Charge Point Operators (CPO).
These two sides together compose a charging network. EV charging networks are basically platforms that enable transactions between the two sides. A company can take the role of an EMSP or a CPO separately, or serve both sides at the same time. All approaches have their own advantages.
Emobility Service Provider
An Emobility Service Provider (EMSP, sometimes EMP) is a company offering an EV charging service to EV drivers. An EMSP provides value by enabling access to a variety of charging points around a geographic area.
EMSPs help EV drivers find charging stations, start charging events and pay with various methods. Typically EMSPs serve only registered customers, but may also enable access for unregistered users, as is sometimes mandated by local law.
Together with a CPO service, an EMSP may focus on enabling access to the company's own charging stations.
As a separate service EMSPs may want to provide access to 3rd party charging stations through roaming. In these cases the company, e.g. an energy utility, typically offers the service to an existing customer base.
Charge Point Operators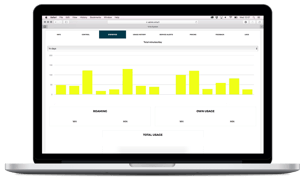 A Charge Point Operator (CPO) is a company operating a pool of charging points. A CPO provides value by connecting smart charging devices to EMSPs.
It should be noted that the same abbreviation is commonly used to describe a Charge Point Owner. Sometimes an Operator owns infrastructure, sometimes it just provides Owners the connection, or sometimes it can both own infrastructure and provide access to other Owners.
A CPO makes sure the network works smoothly. This can include diagnostics, maintenance, price setting and POI data management.
Even if the CPO company offers also an EMSP service, they might want to allow access to the charging points also from other EMSPs.

As a separate service, CPOs rely on other EMSPs to provide access to their charging stations. This can be enabled for example through roaming networks.
If you're interested in learning more about the EV charging business, you might want to leaf through our EV charging business guide. 👇