We are all familiar with the term roaming. When you travel to another country and switch your mobile phone back on after landing, it automatically connects to a local network. You can call, send messages, and use the internet without having to purchase another network contract. Roaming in electric vehicle charging is similar to this.
Roaming defined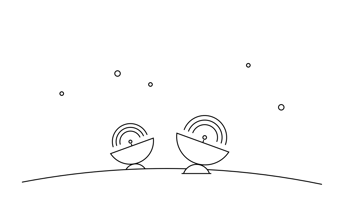 EV roaming is an outcome of the cooperation of electric vehicle charging service providers. To provide their customers with the optimal user experience, charging service providers unite and create a roaming network. As the sales of electric cars continue to rapidly increase, EV roaming ensures that service providers can handle the ongoing electric car boom.
For an electric vehicle driver, roaming offers an ability to use various charging stations even if the EV driver is only a customer of one service provider. Roaming networks open up access to thousands of charging stations, all around the world. EV drivers are offered with consistent and hassle-free charging experience no matter where they drive.
Different types of EV roaming
Roaming networks contain multiple layers that can help the service providers determine the extent of their roaming contract.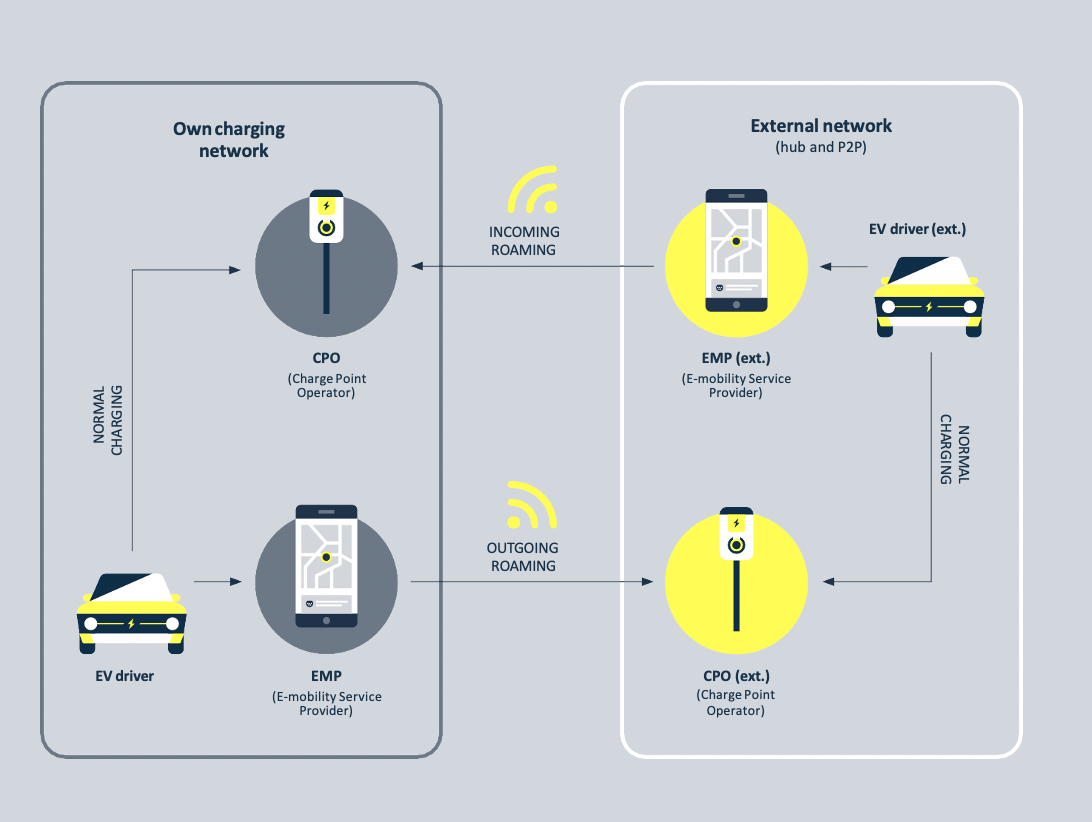 The first layer includes the charging network of a specific service provider. Outside the service providers' charging network, there usually is a larger charging network – such as Virta network. A customer, registered to our customer's service, has access to all stations of our other B2B customers and vice versa. These internal roaming stations are available for EV drivers without extra contracts or registration.
The third layer is created by larger roaming networks. These can be based on either generic hubs or bilateral roaming agreements. For example, Virta is a member of Europe's biggest international roaming platform Hubject, enabling access to more than 160,000 roaming charging points in Europe, the US, and Japan.
Trends and future directions of EV roaming
The electric vehicle charging market is growing as we speak but the market has not matured yet. Roaming procedures are being tested in real-life – just like in the early days of mobile phones.
Bilateral roaming is currently rather popular because it enables two large market players to pursue more profits and a better market position.
However, these peer-to-peer roaming agreements are not the optimal solution from the EV drivers' point of view. They require consumers to stay up to date on the structure of the EV market: to know who has made a contract with whom. Not very convenient, right?
Bilateral agreements are also more costly to operate than open, centralized roaming.
The goal is that most charging stations are accessible with just one customer account – just like most payment cards are accepted in most grocery stores.

Joining roaming hubs instead of closed, peer-to-peer roaming contracts is one step closer to a customer-centric service model. Common, open roaming and pricing structures that are reasonable and fair for all partners are needed.
Currently, protocols and standards for interoperability and EV roaming covering the EU countries are lacking, but the conversation about roaming regulations has recently been initiated. It is of paramount importance to ensure technology neutrality. Several technologies are already on the market and new ones are being developed continuously. In order to leave room for the constant development, technologies should not be regulated.

We believe that EV roaming should be guided in the form of pricing or contractual regulation.
Why should you care about EV roaming?
The current situation in the electric vehicle charging market is in many ways not optimal. Asymmetric competition between charging operators, caused by the lack of common rules and principles, is keeping the roaming charging prices high.
One of the most common barriers in EV adoption, besides their range, is the lack of information about the availability of stations and the total price of a charging session. These hindrances can be tackled with a communication structure connecting all EV market players. When these common standards are agreed on, EV roaming becomes a feasible solution for everybody.
As the market matures, electric car drivers will demand consistency from charging services. Open roaming networks that are grounded on common rules and reasonable charging prices are beneficial for all stakeholders.
We believe that in 10 years, joining a roaming network will be a no-brainer for a charging service provider pursuing growth and customer satisfaction.
A centralized, open roaming system is more profitable to operate than a closed charging network and gives EV drivers access to a broader charging network. The world of fully united EV charging networks can only be reached if common rules and pricing structures are agreed on.
Download our e-book – We'll teach you all there is to know about roaming and how to build customer-centric EV charging services >>