By 2025, EV charging will be an integral part of many businesses. The market is growing like never before: yearly sales of electric vehicles reached over 2 million already in 2022. As more and more consumers choose to go electric, charging locations are needed at home, work, and on the go.
Those EV charging service providers with trustworthy and familiar brands will win over most of the consumers, and become the first ones to run profitable charging businesses. Others will lose not only charging customers but those consuming their primary services as well.
Running an electric vehicle charging business is not a profitable business for most service providers – yet. To accelerate the EV market growth and boost profitability, encouraging consumers to switch to electric cars and sharing knowledge is not the only thing you as a service provider can do.

One of the main reasons that hamper the profitability of EV charging business is hidden costs.
A big part of these unnecessary expenses can be stripped down. Lower costs and smoother procedures are not only beneficial for those running the businesses but to EV drivers as well.


Cutting the extra costs is crucial in creating a profitable charging business
The main challenge is that you need a variety of resources to put up a charging business. An EV charging box on the wall does not help consumers to choose your service instead of competitors'. What does then?
Great user experience, familiar and captivating brand, usability, and readily available customer service, to mention a few.
All the capabilities and resources gathered from different manufacturers and providers create a mess that is full of avoidable expenses. For instance, the invoicing process requires a service provider to implement procurement, clearing, verifying, and accounting. Small streams grow into a big river – or a big bill in this case.
Running an EV charging business the traditional way, meaning that you purchase all the bits and pieces from different operators, requires approximately 10 full-time employees in-house. Another hidden cost, a large one, that can be fully avoided by choosing a charging as a service solution.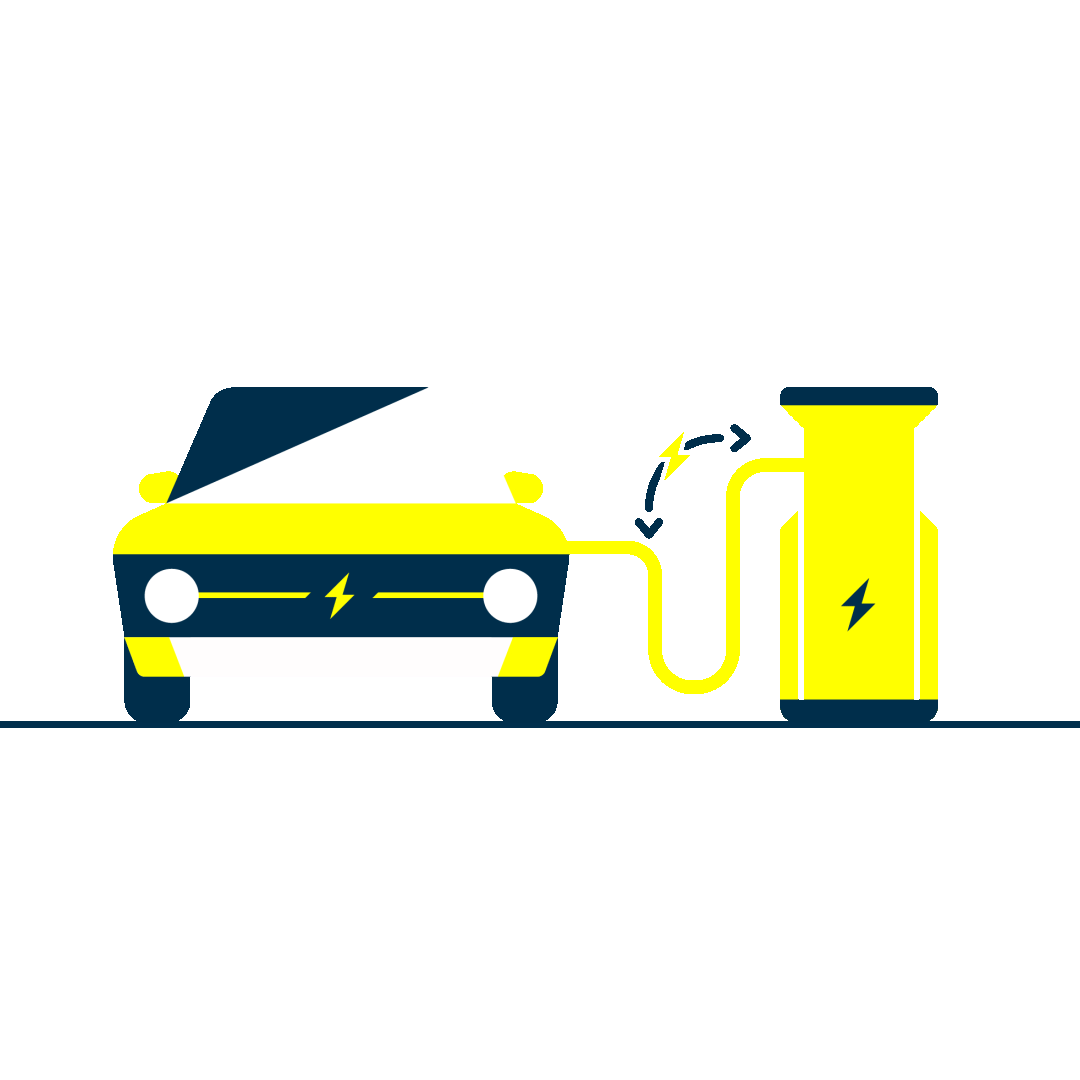 Where to catch the cloaking costs?
Let's go through the most common places where the unnecessary costs are lurking – and find out how you can avoid them, beat the competitors, and create a profitable charging business.

1. Hardware is much more than just a device
Choosing a station to match your needs is not an easy task. Hundreds of manufacturers are available, making already the comparison and negotiation process a long one. And lengthy processes are costly ones. Getting to know the vendors, and comparing prices, qualities, guarantees, and smart features takes a lot of time – unless you choose a service provider with long experience and a turnkey solution to offer.
Other than the deliberation process, also ordering and managing the device delivery and logistics, pre-configuration, and charger installation at the site increase the total expenses. For example, pre-configuration is an essential step in bypassing costly fieldwork.
As a Virta customer, all the extra costs and hassle can be avoided. Our service model is based on pre-defined and pre-specified technology, enabling us to offer a plug-and-play solution for all customer segments. Any electricians can install Virta stations since all firmware settings are pre-defined. Other than that, you'll get full problem-handling from us, including support, maintenance, and warranty.


2. Charging station maintenance – all on cloud
Smart charging stations are connected to the cloud, and therefore can be managed and maintained remotely. However, firmware updates and configurations need to be done by professionals. Creating a trustworthy maintenance, repair, and support system from a scratch is a laborious task. When done poorly, the costs can rise hugely if customers start to evade your stations because of the malfunctions.
Virta's charging as a service solution includes all station maintenance and frees you from worrying about extra costs or lost customers. Support and repair system includes for instance warranty and claim processes, monitoring and conditioning station functionality, and maintenance operations and dispatching. Updates and configurations are always handled by our experienced professionals.


3. Payments, invoicing, and EV driver services
Without an EV charging business professional behind you, payments installations, operations, and maintenance are on your shoulders. Billing integrations, credit risks, and dunning become your everyday tasks.
Don't like how it sounds? Choose charging as a service. We take care of all things related to billing and payments. This way, charging prices can be kept low, attracting EV drivers to choose your service. You're not only saving on hidden costs but collecting more revenue compared to a situation where EV charging must cost more due to hidden payment-related costs.
In addition to low prices, EV drivers value great service and effortless charging experiences. Functional call center, problem-solving solutions, technical and system support, and digital tools for charging are all included in Virta's service. Digital tools include, for example, a mobile application for charging, branded for your company. Designing and developing your application generates a considerable price tag – not to mention maintaining the application and service system.
4. Roaming, compliance, and legislation
After choosing the devices, creating end-user touchpoints, and arranging payment systems, you'll still need to make agreements with multiple partners to get the charging service up and running – unless you choose a turnkey charging solution.
Roaming enables your customers to use other charging stations, and thousands of EV drivers to find their way at your charging stations. If there weren't common roaming agreements and roaming hubs, the service provider should make dozens and dozens of agreements with other service providers to create a functional roaming network.
By becoming Virta's customer, roaming agreements are automatically included in the service, meaning you'll save loads of cash and time in making just one roaming contract through us. Other Virta customer's stations, as well as stations in the roaming hubs, can be used by your EV customers.
EV charging service operator also needs to handle VAT and other national requirements. For instance, local VAT registration is always needed and crucial when selling charging in Europe, and handling cross-border transactions.
Keeping up with the legislation that is currently still changing and taking its shape is a full-time job – yet another figure to keep in mind.

Virta's multi-sided platform lowers costs
A traditional EV charging service provider has so many responsibilities that building up a comprehensive service can feel overpowering. Too many things to take care of, creating a countless amount of extra costs.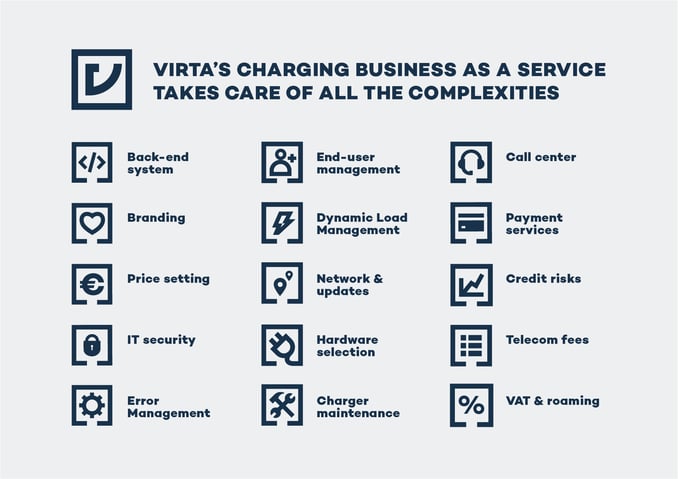 There is an alternative: charging business as a service. Virta's service provides you with full capabilities to build, grow, and operate a professional charging business that is connected to the energy system. All the hidden costs described here (and trust us, there's more) can be avoided – we take care of all the details, tiny or huge.
Our customers can unite their EV charging service with the existing business and brand. This way your new charging service feels and looks familiar and immediately creates a bond between you and your customers.
Are you ready to get started and save some precious time and coins?