Most European countries already have quite an extensive public charging network, and road trip to visit a summer house isn't an impossibility anymore. Here's a short overview on charging infrastructure development for all you statistics lovers.
Nordic countries, including Norway, Sweden, Finland, Denmark and Iceland, have one of the highest ratios of EV's per capita in the world. Four out of these five countries already have a market share above 2%, with Norway leading the way with the highest market share level in the world.
By the end of 2017, approximately 250 000 electric cars had been registered in the Nordic countries.
The number of electric vehicle supply equipment (EVSE) outlets was more than 260 000. Most of these charging points locate at residential buildings or workplaces and over 16 000 are public.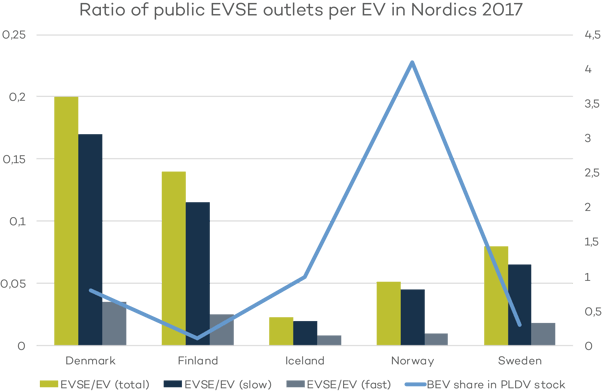 Source: Nordic EV Outlook 2018
Electric cars are mostly charged at home and at work, yet still public charging points, especially fast chargers, are needed. The growth rate for fast chargers has been globally greater than the growth rate of slow chargers.
Number of charging points grows hand in hand with the amount of electric cars. IEA predicts that the amount of public EVSE outlets should be between 4 million and 14 million by 2030 globally.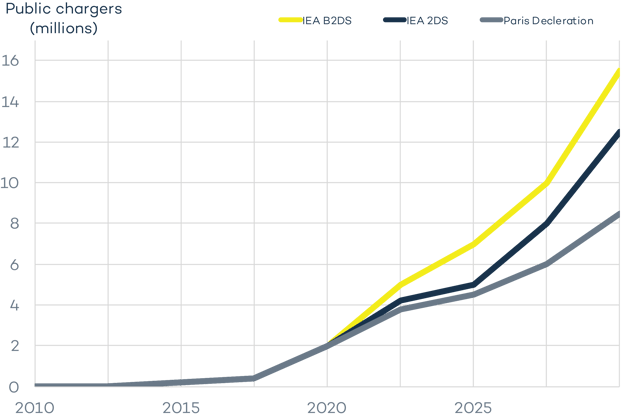 Source: Global EV Outlook 2017
In 2016, there were approximately six electric cars per one public charging station globally. This means that the charging infrastructure in many countries is developing ahead of the amount of vehicles - as it should be to encourage consumers to buy electric cars.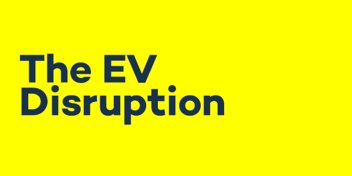 Read more about the EV disruption from our fresh e-book, and become a part of it.