Elanga, an Australian-based EV charging solution company, relies on Virta's back-end system and smart energy management solutions to ensure fast market entry and bring Australian customers a reliable solution to run their EV charging operations smoothly.
"Virta offers us a lot of support. Whenever we have an issue or a question, especially technical ones, they always come up with an answer or a solution. Virta means good backup and support."

- Billy Wepener, CEO of Elanga

Australian EV charging market on the rise
Elanga, an electric vehicle charging solution company, started operating in South Africa in 2016. They used its patented product focused on load management in EV charging to expand operations into Australia.
Shortly after setting up business in Queensland, Australia, they developed modular systems around EV charging infrastructure, which they used as a base to kickstart their operations in the country. The Queensland government was happy to support Elanga's quest to bring smart EV charging solutions to the market.
In 2016, the EV charging market in Australia hadn't been well-developed yet. There were only a few thousand electric vehicles on Australian roads. Since then, EV uptake has grown tremendously and surpassed 70 000 EVs in early 2023.
With that growth, a country-wide reliable EV charging infrastructure is needed. The Australian government is well aware of this need and has been offering various incentives and grants to kickstart the EV charging infrastructure market in the country.
The challenge: Developing own back-end system proved too costly
Since the EV charging market wasn't yet fully developed when Elanga started operations in Australia, they were a forerunner in EV charging solutions. They had two options when it came to developing the right solution.
"We could have developed our own back-end management system. That option would have cost us a lot of resources and taken a long time to get the solution to the market," explains Billy.
Their second option was to look for a partner. One that was well-established in the market and had a well-developed back-end system that Elanga could easily resell to their customers.
Elanga's main customer segments where they see a big potential for the future are the public and the real estate sector. Both sectors have specific needs for EV charging.
The public charging sector allows Elanga to scale up its operations quickly. In Australia, shopping centres create unique opportunities to provide EV infrastructure on a larger scale.
"We needed a solution with the ability to scale easily," adds Billy.
The real estate sector and multi-unit high-rise buildings, a popular housing option in Australia, require specific solutions like load management.
So, the ideal partner needed to provide Elanga with easy scalability and load management solutions. They did research and looked at the availability of such partners.
And that's when Elanga found Virta.
The solution: Virta's CHARGING solution with a reliable back-end system
"Virta was already well-established when we partnered up. They had exactly what we wanted to get us to the market quickly and without any hassle," says Billy.
Elanga utilises the strengths of the Virta back-end system to open the door for many of its sales deals.
With Virta's cloud-based back-end system, Elanga enables customers to remotely monitor, manage and optimise their EV charging operations and make use of automated payments and invoicing.
Virta's load management solutions, such as Adaptive Load Management (ALM) or Dynamic Load Management (DLM), are essential for Elanga to scale up its business in the real estate sector quickly.
"There are multiple EV charging management solution providers, but Virta's back-end management system provides us with specific opportunities where other providers cannot accommodate us," explains Billy.
Billy talks about the aforementioned smart energy management but also the integration of multiple hardware OEMs, which is crucial for accommodating the diverse needs of Elanga's customers. All that is what Virta can offer.
"Also, the ability to easily expand into other areas of the market is extremely important, and that's what we can do with the Virta solution," adds Billy.
The results: On par with the uptake of EVs in Australia
Elanga's two main goals are to grow its monetary revenue and the number of registered EV drivers on the platform. With almost 2000 EV drivers subscribed to the platform, Elanga is on the right path.
"We currently get 10 to 14 new registered customers daily. Our numbers are in tune with EV uptake in Australia," Billy points out.
Elanga's yearly target is to equip 30 shopping centres with around 150 EV chargers per centre, and they are currently well on the way to reaching this goal. Growing the number of installed EV chargers is another crucial focus for Elanga, and the public sector offers them the scalability they're looking for.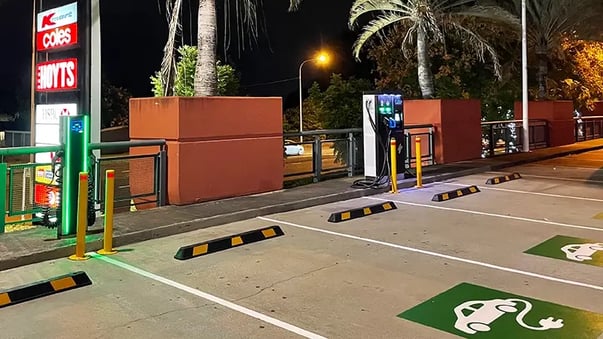 As Billy also mentions, the Virta back-end system provides Elanga and its customers reliability above all else.
"The back-end system is currently the most reliable in Australia. We recorded 99% uptime," explains Billy.
The future: Biggest EV charging provider in Australia
"Of course, our biggest objective is to become the biggest back-end system provider in Australia and attract more and more EV drivers," says Billy.
The competition in Australia can be fierce, but the partnership with Virta has the potential to bring Elanga the desired results.
"Virta's back-end system and reliability give us the edge to become the best service provider in Australia. We have the flexibility to get on the list of the best providers," says Billy.
In the future, Elanga also wants to make use of Virta's hardware and see how they could accelerate their operations by introducing new hardware providers to the Australian market.
Join the forerunners
At Virta, we are constantly looking for new resellers to bring reliable EV charging everywhere.
Join Elanga and become a Virta Reseller to access an end-to-end EV charging solution. While we take care of the complexities, you solely focus on selling the service to your customers.