Ísorka is an Icelandic charging point network operator on a mission to bring EV charging where people need it the most: homes, workplaces, and places of business.
As Ísorka Founder and CEO Sigurður Ástgeirsson explains, electric car charging should be all about convenience:
"We believe the best way to charge your car is while you're doing something else. You shouldn't have to just stand there waiting for the battery to fill up."
To bring that seamless experience to Icelandic EV drivers and businesses, Ísorka partnered with Virta.
Challenge: Fighting for a greener future of transportation
When it comes to green energy, there's no denying that Iceland is one of the world's leading countries. Approximately 85% of the total energy production in Iceland comes from renewable sources: mostly from geothermal energy and hydropower.

To also decrease emissions from the transportation sector, the Icelandic government has recently made the decision to start banning the registration of all new petrol and diesel cars from 2030 onwards.

Such a bold move wouldn't be possible without people like

Sigurður

who are working tirelessly to make the greener future of transportation a reality.

Back in 2014 when Sigurður was working to get his ambitious project off the ground, he was planning on hiring his own team of software engineers and application developers to build a proprietary EV charging platform.
"We wanted to give everyone an opportunity to access the growing EV charging market," Sigurður explains and continues:

"One of our principles from early on was that we don't expect our customers to know anything about how charging points work. The only things they need are electricity and a charging point. We'll take care of the rest."
However, after more than a year of intensive research into building a smart EV charging platform with integrated payments and end-user applications, Sigurður came to the conclusion that he might need a partner to realize his vision.
And that's where Virta came in.

Solution: Becoming an end-to-end franchising partner to Icelandic businesses
In late 2015 Ísorka partnered with Virta to bring all of their customers into a centralized platform that's open for everyone who wants to charge their EV or offer EV charging services to others.
"When we learned about Virta, we quickly realized that there was no need for us to hire people in-house to develop the platform and the apps. We simply noticed that Virta can do all of that for us," Sigurður recounts.
After putting the Virta platform under rigorous testing at multiple charging stations, it was clear to the Ísorka team that they had found the best software to work with.
"The platform allows us to offer our customers their own charging points with their own branding and look. Thanks to the partnership with Virta, Ísorka can deliver an advanced service to our customers," Sigurður sums up.
A good example of these services comes from Ísorka's partnership with Olis, one of Iceland's largest petrol companies.
"Olis wanted to enter the market and offer fast charging to EV drivers. They chose to work with Ísorka because we could provide them with a platform, registrations, mobile apps, and all the services they needed. This allowed Olis to focus on what they're good at, while we take care of their charging network. All charging stations and other end-user touchpoints at Olis locations are branded for them," Sigurður explains.
More than anything, Sigurður and his team view their collaboration with Virta as a strategic partnership.
"I really love the Virta people. It's clear that we're all on the same mission."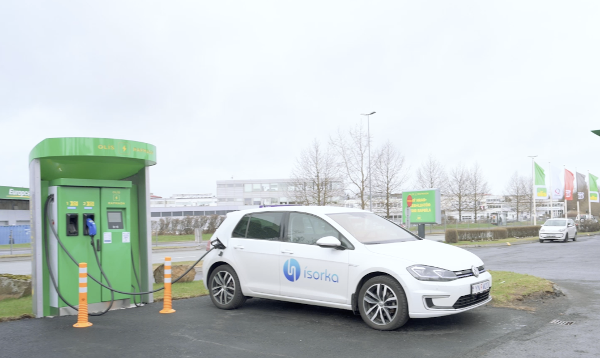 Results: Growing into the market leader in less than 5 years
Without having to hire an army of software developers, Ísorka has been able to grow into the market leader in Iceland with a 3-person team.
"Since 2014, our network has grown rapidly in charging points and users. In fact, they've both doubled in the past 6 months," Sigurður says.
On average, Ísorka powers the charging of over 1,000 cars in a week. That's no small feat for a company that hasn't even seen its 5-year anniversary yet.
And that's only the beginning. In the future, Sigurður and his team will focus heavily on building an even wider network of home and workplace charging stations around Iceland