Find charging stations, view prices and charging power, identify, start charging and pay.
Our favourite mobile apps include a lot of actions and tools, yet are easy to use and bring something new into boring everyday actions – such as charging a car. With our revamped mobile app charging a car is as fun as it gets. All you need is this app. And an EV. And a charging cable.
For registered customers, all payments are automated - all you need to do is to identify yourself to the charging point with the mobile app. During registration, you need to connect your credit card to your account and add 30€ to your own customer account. Virta works like a prepaid service and you'll be automatically billed after each charging event based on energy consumption.
You can also order RFID card, however receiving it by post will take some weeks. With the mobile application, you can charge right after the registration.
Find stations and charge
The first view of the mobile app is a map view – here you can see all the public charging points connected to Virta's charging service. Give your favourite spots a star and you'll find them easily from your personal favourites list. In addition to Virta's charging points, you can view and charge at charging points connected to roaming platform all around the Europe.
Mobile application allows you to set filters for the charging stations. You can for instance choose not to see the roaming stations, or set the filters to show only the stations that serve your car.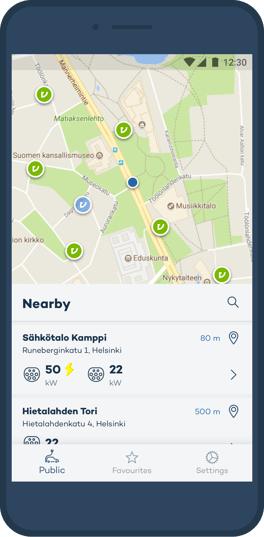 From the map view you can easily see whether the charging station is currently available.
Green icon means that the station is free.
Blue icon means that the station is currently occupied, so someone else might be charging there.
Grey icon means that the station is out of order or that it is still under construction.
Start charging
Many locations also have a picture of the charging station added to the station's profile. Especially at large parking lots finding the station can be tricky and thus picture might ease the in-place navigation.
Before you start the charging event, make sure that the charging point you have chosen has the same four-digit ID number as the charging point at the app. If the car is already plugged in, just choose "Start charging". And that's it!
Download the app
Virta's mobile app is available at Google Play Store and App Store. The new and fresh app version is already available for Android and soon for iOs as well.
Read more about charging at public charging stations from Public Charging Guide: