Finding a charging station, plugging the car in and… paying. For an EV driver, paying for an EV charging session is straightforward.
But what happens behind the scenes? The payment and invoicing processes are a bit more complex to ensure that all payments go through.
We believe that the right EV charging management platform should take the word 'complex' out of the question and instead replace it with 'smooth and easy'.
Virta payments and invoicing system is designed to provide you with exactly that – a smooth and easy process. In this blog post, we'll dive deeper into all the ins and outs of the Virta automated payments and invoicing solution, so read on.


The payment process explained
Electric mobility is booming, but we still have a long way to go before we achieve a fully electric reality on our roads. For successful electrification of mobility, specifically road mobility, the need for simplicity in all the aspects of the EV charging experience is crucial.
How does the EV charging payment and invoicing process look like in six simple steps?
The Charging Point Operator, aka CPO, sets a price for a charging event.
EV driver finds a suitable EV charger, chooses their preferred payment option (we'll get into what those are a bit later) and completes the payment.
Virta's partner, an authorized payment service provider, processes the payment for Virta.
Virta handles the VAT payment of the charging session.
The EV driver receives a receipt for their payment.
And last but not least, Virta calculates the final sum payable to the CPO and settles it on a monthly basis.


VAT handling
Local VAT registration and handling cross-border transactions are crucial parts of offering EV charging services. At Virta, we act as the seller of the service to the EV driver and therefore are responsible for receipts, invoices, and VAT payments. We take care of all the VAT matters on your behalf across various countries where the VAT legislation and payment rules differ.
Compliancy and regulations
As the EV charging market moves forward, so is the related legislation and regulations. Keeping up with the ever-evolving industry legislation can be tricky. At Virta, we ensure your service follows all the regulations, so you don't have to worry about any compliance risks.
"You save approximately five workdays per month of manual transaction processing work via Virta automation."
The benefits for Charging Point operators (CPO)
Set your own price
The only thing that's needed from you, the CPO, is setting a price. You can set the price for charging events based on time, kWh charged or any other parameter of your choosing. And after that, we'll take care of the rest.
Let the money come to you automatically
Virta processes VAT and settlement calculation automatically based on the charging events happened at your stations and sends compliant documentation to you on a monthly basis. The money comes directly into your account.
Make the payment process your own with branding
A brandable EV charging solution brings your business many advantages. The most important one is that your customers are in touch with your brand, the one they know and trust, during the entire process – from finding a charging station to receiving a payment receipt.
The whole payment process can be customized to your brand, from the RFID tags and one-time-payment page to the branded receipts.
Offer a hassle-free payment experience for your EV drivers
Other than range anxiety (we debunked this EV charging myth here), consumers sometimes worry that the process of charging up an EV is more complicated than refuelling an ICE (internal combustion engine vehicle), which can discourage them from purchasing an EV. That's why ensuring the process is as easy as possible is crucial.
With Virta, EV drivers have access to the Virta roaming network of more than 200 000 charging stations, all findable with just a few clicks in the brandable Virta app. All up-to-date charging tariffs are viewable in the app, so one's not left wondering how much the charging session will cost. Payments for EV charging sessions can be initiated and ended directly via the mobile app, RFID charging tag, or one-time purchases.


EV charging payment methods for EV drivers
An EV driver is offered multiple choices on how to make the payment for an EV charging session. The main difference lies in whether a customer is registered or unregistered.
A registered Virta customer can easily pay with our mobile app. The Virta mobile app is available on iOS and Android, and it's the easiest way for an EV driver to find and reserve stations, start and stop charging, and pay with the method of their choice.  
The app allows EV drivers to manage their account, add favourite stations, view their charging history, and print charging receipts.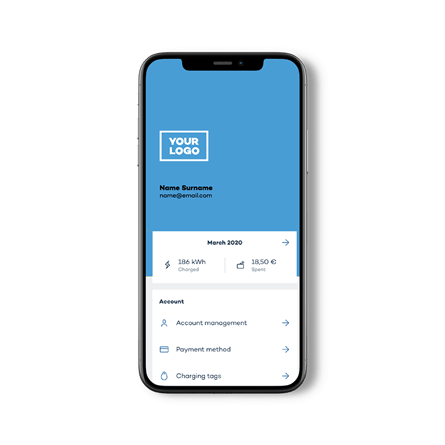 The second option your registered customers can use is an RFID charging card or a key ring. RFID tags are used for identification at charging stations and enable EV drivers to start and end charging sessions. 
The service works on a pre-paid basis where your customers can add charging value at any time. All payments are carried out automatically through Virta.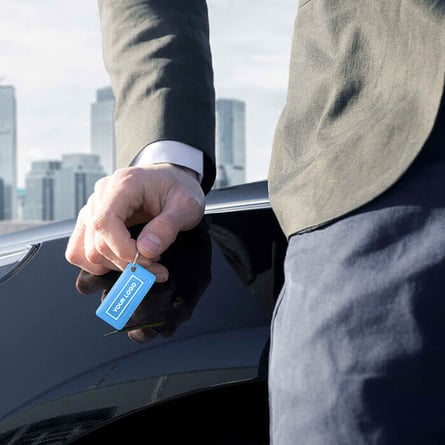 Thanks to the one-time payment option, even unregistered EV drivers can charge up at your public stations. Customers simply choose the charging device in question on a one-time payment page, input relevant payment information, and start charging their car. Customers are billed from their payment card immediately after their charging event ends.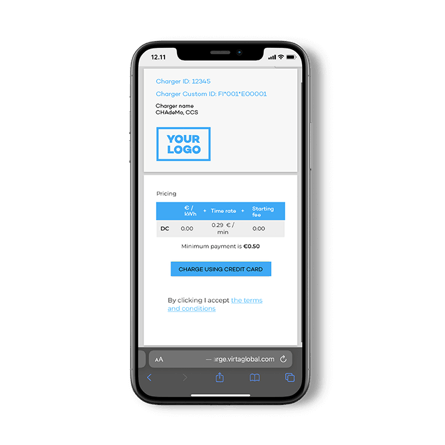 Check out our dedicated guide if you want to learn more about building an EV charging business.