Heavy-duty vehicles largely contribute to the world's GHG emissions. Only in Europe, trucks account for less than 2% of vehicles on the roads, yet they make up almost 1/4 of the continent's road emissions. It's clear that reducing these emissions needs to be a priority.
So, how should we go about it? Electrification of heavy-duty fleets is the answer. In this blog post, we'll learn why electrification makes the most sense and how the EV charging industry is preparing for this transformation.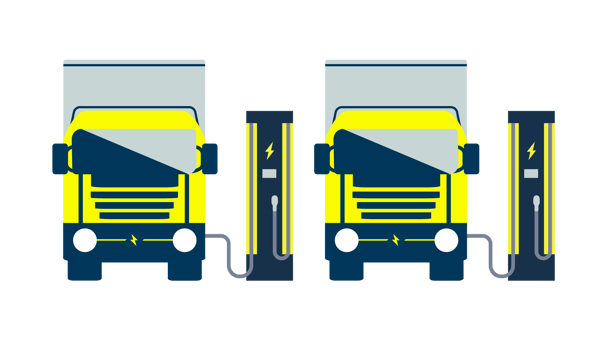 Electric trucks outperform hydrogen counterparts in reducing emissions
As mentioned, heavy-duty trucks are a big environmental polluter. According to the International Council of Clean Transportation (ICCT), switching to a battery-electric trucks could save up to 63%* GHG emissions compared to its diesel, hydrogen and natural gas counterparts over the vehicle's lifecycle.
This number already represents a significant cut in emissions, assuming the electricity used to power these electric trucks comes from the current electricity mix.
Now, let's take the example of only using renewable electricity to make and charge these trucks. In this case, lifecycle GHG emissions could lower by up to 92%*.
*Figures include one battery exchange per truck during its lifecycle.
By 2030, EV charging will provide up to 90% CO2 reduction by default. But charging service providers can already help their customers achieve this reduction now by offering them EV charging with renewable electricity.
At Virta, we understand the importance of renewable electricity and its use for EV charging. That's why we enable our customers to provide EV charging with renewable electricity with our service called Virta Origin.
Want to provide 100% sustainable and renewable EV charging? Discover Virta Origin.
Transport industry takes action, supported by legislation
The European Commission proposes legislation requiring 45% emission reductions by 2030 and 90% by 2040 compared to 2019.
The legislation doesn't only target trucks; the proposal goes on to state that all new city buses must be zero emission by 2030.
While the legislation is still in the proposal stage, major truck manufacturers take action into their own hands by pledging for up to 70% of their European sales to come from heavy-duty electric vehicles (HDEVs) by 2030.
Large transport operators are also gearing up for a zero-emission future. In December 2022, 44 large transport operators sent an open letter to the European Commission to ensure all new freight trucks are zero-emission from 2035.
Due to the regulatory pressure on these operators, the switch is happening faster than anticipated. That means only one thing; the development of suitable charging infrastructure, meaning ultra-fast charging (HPC) and, soon also, megawatt charging, needs to happen now.
It's important to remember that the construction of HPC or megawatt charging sites can take up to over 18 months. Which only reinforces the importance of starting now.
Heavy-duty electric vehicles will become the new normal within the next few years leading up to 2030. Since the average lifecycle of a truck is 18 years, you should already choose electric for your next purchase.
Total cost of ownership (TCO) favours electric trucks
The total cost of ownership is the cost of a purchase of an asset and the cost of its operation through its lifecycle. The TCO of electric trucks is expected to be lower than the TCO of comparable ICE models already by 2025. The main aspects that define these costs are the charging infrastructure and electricity prices.
Optimising your HDEV fleet to influence charging costs requires new capabilities and new knowledge. From choosing how you procure your electricity to optimising your existing electrical system or managing charging times according to fluctuating energy prices.
The right EV charging solution provider should take all these off your plate. At Virta, we have various smart energy management solutions that optimise your charging and make sure your vehicles are charged whenever you need them while saving you costs.
In the European Union, many countries offer subsidies and funding to purchase HDEVs. Since the high initial costs can often feel discouraging for fleet managers, subsidies can play a pivotal role in heavy-duty electrification.
Another cost saving associated with a zero-emission heavy-duty fleet relates to toll fees. By 2024, EU member states have to provide electric trucks up to 50% discount on distance-based road tolls. This can provide freight companies savings of over 10.000€ annually and further promote the transition to zero-emission heavy-duty fleets.
EV charging industry gearing up for heavy-duty electrification
The EV charging industry is already well on its way to accommodating the needs of passenger EVs. But to prepare for the wave of HDEVs, there's a strong need for a network of ultra-fast (HPC) chargers and a new charging standard that further lowers the charging times. Luckily, both are in the works.
A new charging standard, the megawatt charging standard (MCS), has been in development since 2019. The standard is now being tested by the CharIN association, which is responsible for developing the system, and should become the industry standard for heavy-duty charging by 2025.
One of the biggest initial worries heavy-duty fleet managers have when electrifying is the lack of charging infrastructure suitable for HDVs. Milence, a joint venture of Traton Group, Daimler Truck and the Volvo Group, aims to build a Europe-wide public charging network of more than 1.700 charging points for HDVs in the next five years.
At Virta, we aim to contribute to the growth of the EV charging infrastructure as much as possible. That's why we've partnered up with Nimbnet, a Swedish charging point operator and Kempower, the Finnish charging device manufacturer, to develop a network of ultra-fast chargers in Sweden to accommodate the charging needs of the growing number of Swedish electric trucks.
All of these advancements point in the right direction of an electrified future for the heavy-duty sector.
Join the transformation
As we can see, the industry is heavily preparing for widespread heavy-duty electrification. If you're a fleet manager or operator, the time to join the transformation has never been better.
Finding the right charging solution provider is vital to make the switch as smooth as possible.
At Virta, we have a solution for heavy-duty EV charging that incorporates everything you need to operate your EV charging business successfully.
Suitable hardware
Our ultra-fast charging stations span from 150 kW up to 600 kW and are automatically equipped with our back-end solution, the Virta Platform.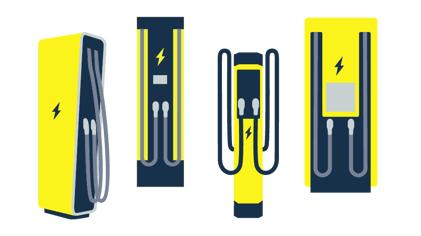 Cloud-based software
The Virta Platform gives you a complete overview of your charging operations on one single platform.
Smart energy management services
Our energy management solutions ensure your HDEVs are charged at optimal levels and times by optimising the charging power based on your electrical system's capacity.
Automated fleet solution
If you operate a fleet of hundreds or even thousands of vehicles, automation and easy access to data are most likely what you're looking for. We got you!