In the world's quest to electrify transportation, the electrification of fleets has the biggest potential to speed up the process.
Globally, the transportation sector emits the largest share of greenhouse gas (GHG) emissions. Only in Europe it accounts for 21% of all emissions, of which more than 3/4 are solely made up by road transportation.
The European Union has a solution in mind. As per the European Green Deal, the union's economy and society should be decarbonised by 2050. Transportation-wise, we should see a 90% reduction in road transport emissions by the same year if we want to adhere to the goal.
The need for the electrification of transportation is clear. So, what's the fastest way to achieve that? Electrification of fleets seems to be the answer. According to Eurelectric's study, fleet electrification would cut around half of Europe's road emissions.
Let's look at company cars, leased or owned by a company and driven by its employees. 6 out of 10 cars sold in Europe are company cars, but most of these are still ICEs (internal combustion engine vehicles). Imagine the impact companies could make if they switched their fleets to electric. And you could be among those impact makers.
WHAT'S IN IT FOR YOU?
After reading the first four paragraphs, you're now aware of the damaging impact ICE cars have on our environment. But you're also mindful of the positive impact switching those ICEs to EVs can have.
But that's not where the list of benefits ends. For you, an employer leasing cars for their employees' use, making the switch from ICEs to EVs offers much more.
Your employees want to drive electric
Your employees' productivity and effectiveness at work tightly correlate with what benefits you offer them. An electric company car can be a strong one.
The popularity of electric vehicles is growing among consumers, which manifests in the growing number of EV sales. According to EY, 52% of those intending to purchase a car gravitate towards fully electric cars, plug-in hybrids or hybrid vehicles. The reasons behind the growing preference are mostly the positive environmental aspect of EVs, followed by the desire to avoid penalties on ICEs and receive monetary incentives amid buying an EV. That means one thing; your employees want to drive electric.
And that's not all. How about your employees who already drive an EV? The availability of EV charging at work is crucial for them. According to a survey we've run together with Kantar, almost 60% of EV drivers globally want to charge their cars at work.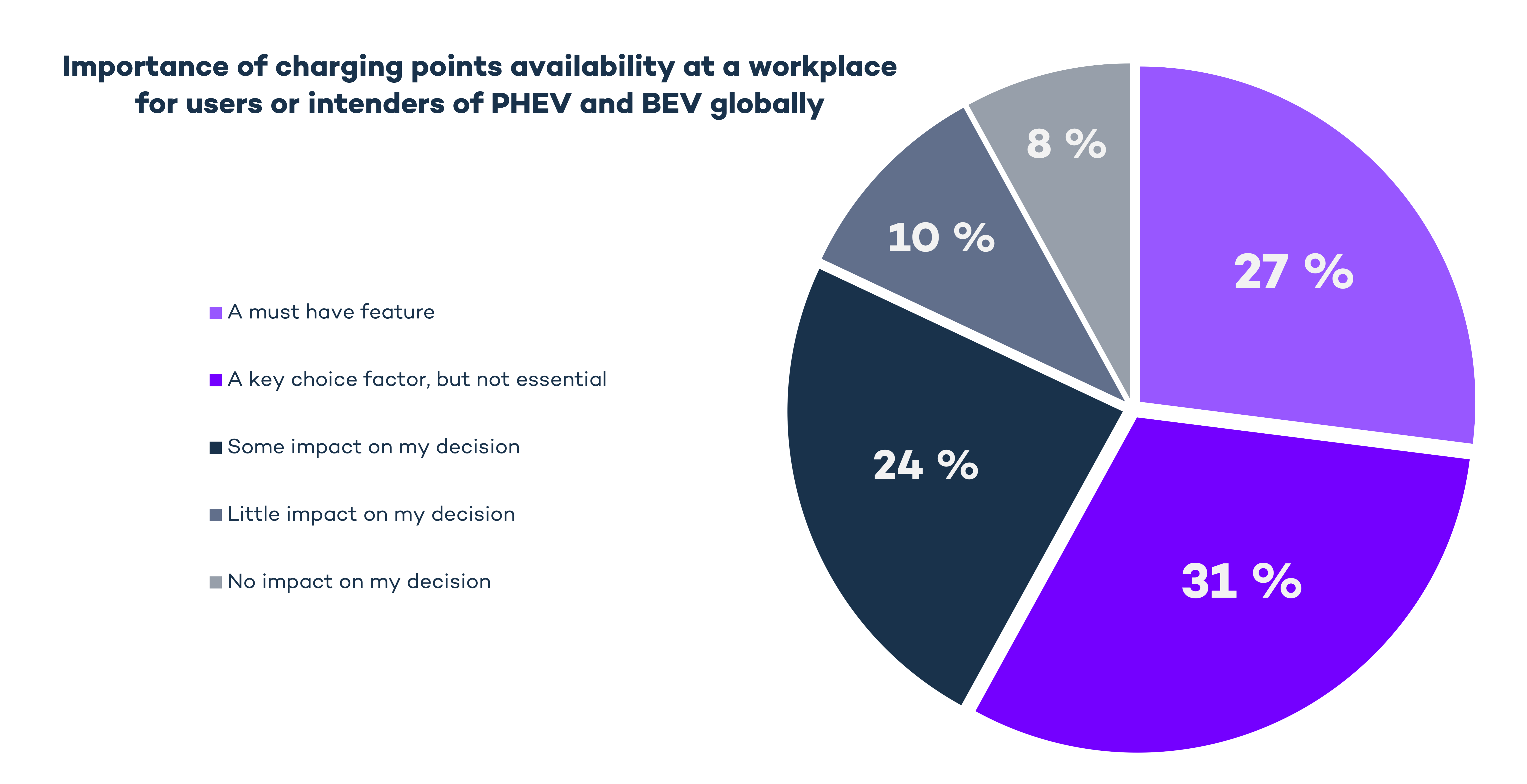 Source: Kantar & Virta Survey 2022
As you electrify your corporate fleet of vehicles, you can simultaneously install EV charging points at your corporate location and meet all your employees' needs for a convenient place to charge.
Give a helping hand in cutting GHG emissions
The positive effect EV adoption has on our environment is evident. On average, electric cars produce 3x less CO2 emissions than fossil fuel vehicles when comparing their lifecycle emissions. How 'green' EVs are also depends on what electricity we use to power them up. As the European Union plans to massively speed up the transition to renewable energy such as wind or solar, we will see EV lifecycle emissions decrease even further.
And it's not only about cutting emissions. Electric cars can serve as so-called 'big batteries on wheels', meaning they can be used to store energy. Whenever enough vehicles are plugged in, we can use them to stabilise the energy grid. That is possible thanks to smart EV charging, which enables us to utilise the stored energy whenever there are spikes in the energy demand.
Simply put, the more electric vehicles there are on our roads, driving and charging, the better we can use them to support our energy system.
Lower your TCO (total cost of ownership)
The truth is that the upfront investment into a fleet of EVs is higher than with ICEs. But EVs' lower servicing and maintenance costs quickly bridge the high upfront cost. Combined with various grants and incentives offered by many governments, your EV fleet's TCO (total cost of ownership) will end up being lower than with regular ICEs. EVs are easier to run, and with the financial help in the form of grants, getting started won't put a strain on your wallet either.
LOOKING FOR A GOOD EV FLEET MANAGEMENT SOLUTION?
Once you make the decision to electrify your corporate fleet, the next step is finding a suitable EV fleet management solution. But what makes for a good solution provider, and what should you consider when selecting one?
Home charging reimbursement
Your employees spend considerable time at work and on the go, so workplace and public charging possibilities are crucial. Yet, home charging remains the dominant way of charging for EV drivers in many countries.
According to our study with Kantar, almost 70% of EV drivers or those who intend to buy an EV consider charging their cars at home necessary.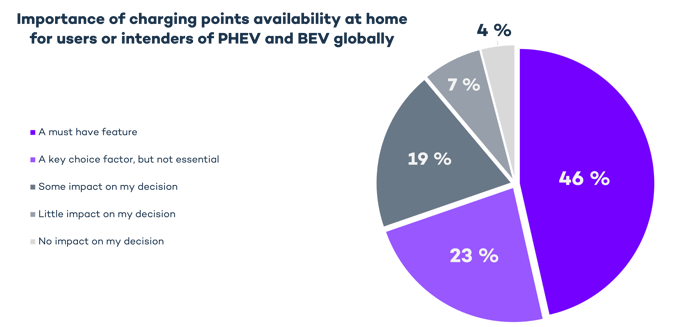 Source: Kantar & Virta Survey 2022
Home charging will make up a considerable part of your employees' charging habits. Being able to rely on an effortless home charging reimbursement system should play a crucial aspect in your decision-making.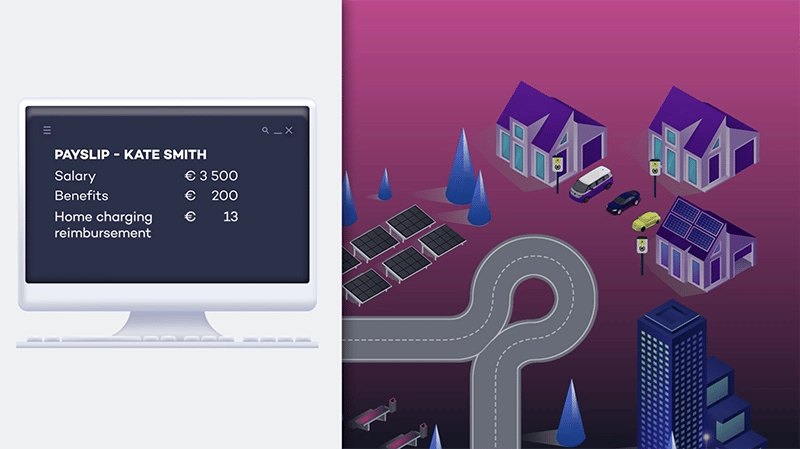 Optimise your charging
When you operate an electric vehicle fleet and want to offer charging at the office, you might have to install a high number of chargers. That is not always optimal for the existing electrical infrastructure of the location. And infrastructure upgrades might be too costly.
Thankfully, smart energy management solutions, such as Dynamic Load Management (DLM) or Adaptive Load Management (ALM), help you dynamically optimise the charging power delivered to your chargers. In the end, energy management solutions can save you tons of money.
Let your drivers roam
One need that all EV drivers share is for the possibility to go anywhere and not have to worry about charging options on the way or at their destination. In fact, over 70% of EV drivers consider access to the widest network of charging point operators crucial. Only 4% of EV drivers don't find this aspect important at all.
Source: Kantar & Virta Survey 2022
The wider the charging network of your chosen EV charging provider, the more charging options for your EV drivers. You should keep this aspect in mind during decision-making.
ELECTRIFY YOUR CORPORATE FLEET WITH VIRTA
Today, electrifying your fleet and entering the EV charging market is still a choice, but fleet electrification will be the new norm as time goes on. Primarily due to the newly introduced fines and increased taxation for driving fossil-fuel-powered vehicles.
It's time to say yes to electrifying your corporate fleet!
At Virta, we design solutions to serve a wide selection of customers yet recognise their specific needs. With the Virta Fleet solution, we ensure you get an end-to-end service with peace of mind.
Learn more in our video 👇