The energy crisis and rising prices of fossil fuels are posing a burden on many businesses. Solar energy is an infinitely available energy resource, but if we want to use it to its best potential, we need smart technologies to help us. In this blog post, we explore four reasons why a photovoltaic (PV) system in combination with EV charging makes sense and why this business model is becoming highly important for companies everywhere.
In 2022, solar and wind power supplied 22% of the energy consumed in Europe, more than doubling from 2021. And the reason for such growth? The climate emergency pushing for the use of renewable energies, but also the cost of renewable energy, which is now meeting the prices of carbon energy.
Photovoltaic systems and solar energy offer some serious advantages. Let's dive into the four reasons why using solar panels for EV charging makes sense and take advantage of the opportunities solar power generates.
co2-neutral operations attract customers
First, with solar power, you generate 100% renewable energy and actively help reduce CO2 emissions. Solar EV charging makes the operation of electric cars completely CO2-neutral.
Our study with Kantar found that over 70% of EV drivers prefer to charge their batteries with electricity from renewable sources.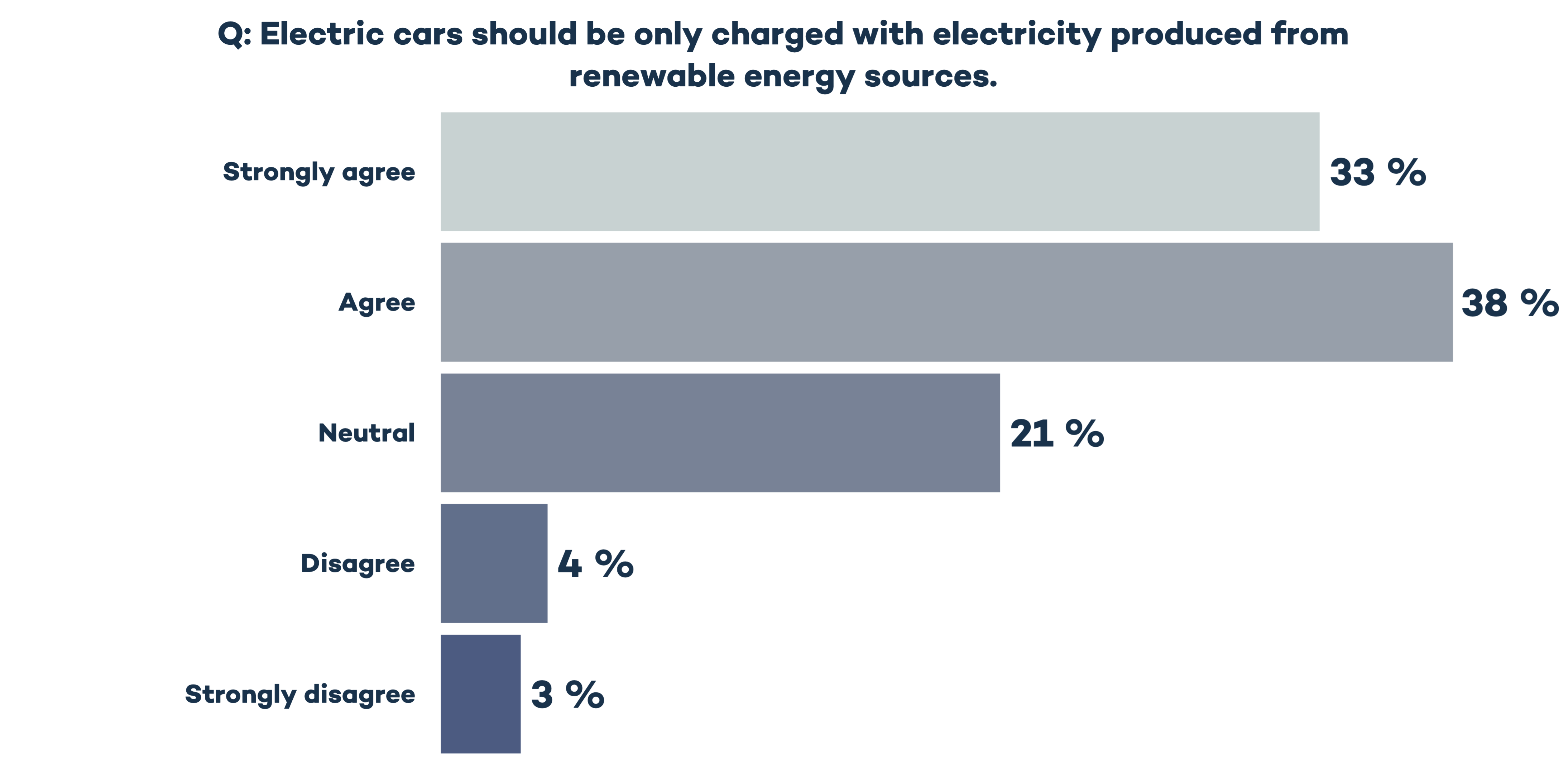 As a provider of self-generated solar power, you increase your EV charging stations' attractiveness to EV drivers committed to reducing their carbon footprint. If you install EV chargers powered by a PV system, you present yourself as an innovative, environmentally friendly and sustainable company that will stand out from the competition.
Maximum cost efficiency
If you produce your own electricity, you become independent of the electricity market and its price developments. In combination with EV charging stations, you can hand over your generated electricity at the market price and benefit from significantly higher profit margins at no cost.
You can also pass this cost advantage directly to your EV charging customers and ensure higher utilisation of your chargers because EV drivers are willing to travel longer distances to save money.
An example:

In Europe, typical solar panels produce 400-650 W. Yearly energy production per installed kWp (kilowatt peak, maximum power under best conditions) ranges from 900 to 1600 kWh depending on the location; the sunnier the country, the more energy is produced.
For this blog post, let's take an example of an average PV system with an area of 6 to 7 m2, corresponding to approximately four individual solar panels. A PV system of this size can produce about 1 000 kWh of solar power per year.
1 000 kWh can fully charge a VW e-Golf 28 times and provide a driving range of about 8 000 km, with an average consumption of 13.20 kWh per 100 km.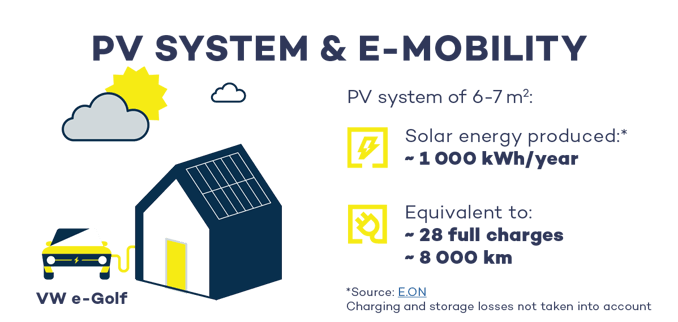 Good to know: For direct charging of an EV with a PV system, an excess power of at least 1.4 kW is necessary with 1-phase charging. For newer car models that charge 3-phase, it must be three times as much, i.e. at least 4.2 kW. That means that solar power charging is suitable in combination with AC standard charging stations with an output of up to 22 kW.
Get rewarded for your efforts
The expansion of renewable energy production is in the best interest of governments worldwide to reduce our dependence on fossil fuels. In answer to that, many countries offer subsidies and grant schemes to individuals and businesses to install both PV systems and EV charging infrastructure.
In the UK, the Smart Export Guarantee (SEG) scheme requires large energy suppliers to offer a tariff for electricity exported to the grid by, for example, solar panels. For you, this can mean a new source of income for excess energy generated by your PV systems. Regarding EV charging grant schemes, the Workplace Charging Scheme and the On-street Residential Chargepoint Scheme both provide support for the installation of EV chargers.
Often, grants and subsidies for PV systems and EV charging stations can be combined, which can further reduce your costs.
Help balance the energy grid
PV systems are often set up together with an energy storage system. That way, the generated solar power can also be used after the sun stops shining and at peak times.
With an energy storage system, you can increase your self-consumption share and make yourself even more independent of electricity suppliers and fluctuating prices. But PV storage systems can be costly; for 10 kWh of storage capacity, the cost can go up to 10 000 EUR, i.e. around 1 000 EUR per kWh of storage capacity.
In addition, PV storage systems require a lot of space and ventilation, and their operation consumes energy.
Electric vehicles: batteries on wheels
If you offer EV charging with solar energy, why not use EV batteries for a good cause? This is exactly what the vehicle-to-grid (V2G) technology aims for. So, how does it work?
An EV charging station with V2G technology makes bi-directional charging possible making the vehicle's battery into energy storage. You can store generated solar power in your electric car fleet during the day and make use of it during the night if necessary. This makes the expensive purchase of an energy storage system unnecessary.
The share of renewable energy is steadily increasing, and so is the volatility of the energy grid. Since energy storage systems alone won't be sufficient in the future, electric vehicle batteries are becoming increasingly important in helping balance consumption peaks and keep the energy grid healthy and efficient.
FROM OPPORTUNITY TO NECESSITY
While there are no legal requirements in many countries for PV system installations, only incentivisation with subsidies and grants, we can expect such laws to be introduced by governments worldwide.
Some countries already have such legislation in place. For example, the Renewable Energy Act in France introduces an obligation for public car parks with over 80 parking spaces to install PV systems, otherwise risking severe penalties. Covered parking spaces are the perfect place to combine PV systems with EV charging.
Virta is one of the fastest-growing charging networks for electric vehicles. We help you plan your EV charging operations and support you from the beginning with site analyses and technical feasibility in connection with the construction of PV systems.
We have a unified solution for all types of EV charging – from workplace to public charging and our smart energy management tools ensure you always have the electricity you need.
Contact our sales experts now to talk about the potential of your business!