Let's talk about the ghost of many EV drivers: range anxiety. Few times a year an electric car should be able to ride you hundreds of kilometers to the summer holiday location. Today's EV's suit for longer road trips just like any car.

Tips to long distance travelling with an EV:
1. Fast chargers, ohoy!
If you have several route options to reach your locations, check the availability of fast chargers before you choose a route. Battery of a regular EV fills up in about 30 minutes: as long as it takes to have lunch or take a coffee break to stay fresh and bright for driving.
Remember to also make sure that the locations you choose for charging suit your car. Not all fast charging stations have both CCS Combo and CHAdeMO plugs, and Tesla Superchargers work only for Tesla's.
2. Highway or no way?
Highways might not be the optimal route for EV road tripping, since electric cars, just like all cars, use much more power with higher speed. Keeping the speed lower might be your saviour if you want to keep the amount of stops at minimum. On the other hand, if the fast chargers by your route are multiple, maybe an extra stop doesn't matter if the gas pedal feels heavy.
3. Take it easy.
One thing is for sure: e-mobility sector is young and road trips still require a little bit of adventure mindedness and planning. EV's go well together with downshifting - do not go on a longer trip in a hurry. Make plans and schedules, but prepare for delays. Someone might be using a fast charger just when you arrive. Unfortunately, chargers might also sometimes have malfunctions. These will get more and more unusual as time goes by, but might still come to your way some day.
+ Car swap with a friend
If the annual long distance trips are few and far between, keep in mind that EV's are still quite rare. A neighbour or a friend might be willing to swap cars for a week or two. Everybody wins: A newbie gets to test the awesomeness of an EV, and you can ride a dinosaur for 500 km without breaks.
Not convinced yet? Stay tuned for the reports of some serious road tripping planned for the summer 2018.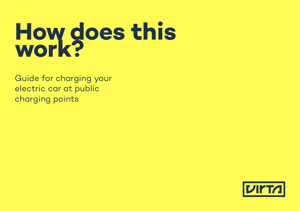 Read more about public charging stations from our e-book: