Virta Partner Program unlocks unique business opportunities with smart electric vehicle charging. Our partners can simply focus on selling the charging and energy management solutions to their customers, without any upfront investments. One of our Swedish resellers is Luminus Koepke. Together with Virta, Koepke is future-proofing properties in Sweden in an effortless, safe, and cost-efficient way.

Luminus

Koepke

AB

:

"Det

bara

funkar

" = "It just works"



Luminus Koepke AB, Koepke for friends, is a Swedish company offering a wide range of solutions for companies, organizations, and individuals in need of power, light, heat, or intelligent electricity installations. The company operates in the Stockholm area.

"The interest towards EV charging is growing, and many customers want chargers installed. It's clear for us that EV charging station installations are an increasing business opportunity in the future," Tomas Koepke, the founder of Luminus Koepke AB, describes.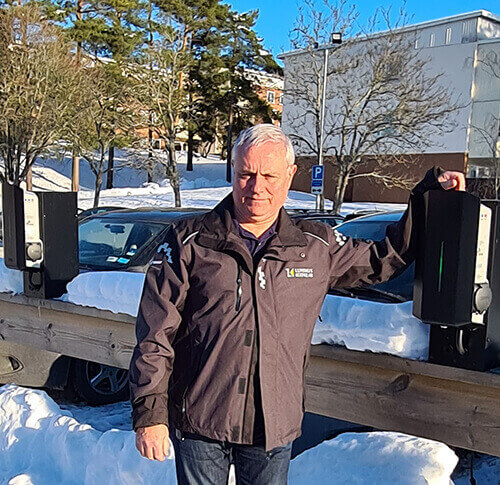 The company Koepke collaborates with housing cooperatives in service and environmental measures and, for instance, encourages apartment buildings to switch to energy-efficient lighting solutions.
"Det bara funkar" = "It just works"
The company slogan "it just works" describes their value proposition quite precisely. For the end customers, solutions related to electricity and power are everyday essentials: a kind of necessity you only notice when it doesn't function properly.
We at Virta believe that electric vehicle charging should be as an effortless and worry-free part of our everyday life as switching on lights or turning up the heating.
This makes Virta and Koepke a great match.
Dive into the EV charging business overnight with a partner program
Even though charging a car is a simple act of plugging in and starting the charging event, a lot is going on in the background. Running an EV charging business includes a complex set of actions and responsibilities, and becoming an expert on all of it is a result of years of work.
Virta Partner Program helps our partners to become experts in EV charging without having to take care of the complexities. Partners get to leverage our comprehensive field experience and can focus fully on selling the service to their customers – without upfront investments.

Tomas Koepke got to know Virta's smart electric vehicle solutions through personal connections with Virta Sweden.
The principle is that partners can fully focus on reselling EV charging services alongside their main services, as all practicalities from customer support to payments are covered by Virta.
In Koepke's case, they handle the installations and Virta takes care of the rest.
Case

Styrmannen

:

Adaptive load management helps

a t

enant-owner association

to

embrace the EV revolution
Being familiar with the challenges of electrical systems in Swedish apartment buildings, Koepke was especially interested in the smart energy features of Virta's EV charging offering.
Electrical systems in old apartment buildings are not built to handle the intensive loads that EV charging causes, which is why smart charging is the only safe way to enable charging in these premises. Smart energy management solutions, such as dynamically changing charging power, enable EV charging with maximum power without large and expensive electricity renovations.
Starting point
One of Koepke's customers taking advantage of Virta's energy management solutions for real-estate is a tenant-owner association Styrmannen in Värmdö area, near Stockholm, Sweden.
Styrmannen apartment buildings have been built in 1967, meaning that neither the electrical sockets or cabling in the buildings cannot endure the load from electric car charging.
Yet, the needs of the tenants living in the 168 apartments of the area wanted to be covered by providing them a place to charge cars. This is where Virta got into the act.
Solution
To meet the needs of older apartment buildings, Virta's EV charging solution can be paired with Adaptive Load Management (ALM) – a solution designed for sites where EV charging has to be balanced with other loads of the premise.
In practice, ALM adjusts the available power based on the whole site's power usage, and this way helps to avoid overloads and costly power peaks. The premise's electricity system is secured, and cars can be always charged with the maximum charging power available.
Adaptive Load Management – Next-level energy management for real estates
Virta

Adaptive Load Management benefits:
* Save costs. Avoid operational costs and investments in electricity renovations.
* Maximise charging capacity. Make sure you have the available capacity used in charging or other building functions, without the risk of overloads.
* Futureproof your charging site. More charging stations can be installed and connected to the ALM system. Virta's solution is compatible with most chargers, enabling you to choose the best hardware available on the market.
The easiest way to implement Adaptive Load Management is an all-in-one hardware package called Virta Box. With Virta Box, older buildings such as Styrmannen apartments can upgrade their services to the new century.
Koepke installed six Virta Boxes with Adaptive Load Management technology at Styrmannen. Virta Boxes monitor the energy usage in the buildings and transmit data from the site to the Virta cloud. This measurement data is used for calculating the available charging capacity. The solution adapts to changing loads in real-time: when the demand from other devices than charging increases, the charging loads are decreased, and vice versa.
A smart energy solution like Virta Box is a cost-efficient and futureproof solution for apartment buildings like Styrmannen, making sure that the amount of charging stations can be increased in the future without an energy system limiting the growth.
"Our framework agreement with Hemsö, one of Sweden's largest privately-owned real estate companies, will tighten the collaboration with Virta even more in the near future," Tomas Koepke believes.
Case
Styrmannen
168 apartments
6 Virta Boxes
6 chargers installed
"Virta people are the most competent in terms of charging infrastructure, so I got very convinced that this is the best option for us," Tomas Koepke from Luminus Koepke AB.