Predictions say that in 2030, 2 out of 5 cars sold worldwide will be electric. And by 2040, 100% of new cars are predicted to be electric. While the climate emergency certainly plays a role in this acceleration, new legislations, government funding, and various subsidy schemes have also boosted EV sales. And the results are there: more and more drivers are going electric.
Of course, more electric vehicles on our roads mean that the demand for charging points is also sharply increasing. In other words, there has never been a better time to invest in EV charging.
Investing in brandable EV charging solutions provides businesses with a unique opportunity to expand their offering and associate their brand with positive, environmentally conscious services.


The advantages of offering EV charging under your brand
A question that often comes up among businesses wishing to deploy a branded electric vehicle charging service is:
"How can I make my brand benefit from it?"
There are multiple benefits of offering EV charging under your brand:
Diversify your sphere of action and attract new customers
Whether your business is already present on the e-mobility market or not, you'll be able to reach new customer segments by associating your brand with EV charging – by having branded EV charging stations, for example.
Offer customised experiences at every step your customer takes
EV drivers coming to enjoy your products and services are welcomed by electric vehicle chargers showcasing your logo and brand colours and thus are provided with a comprehensive customer experience that already begins at the parking lot.
Every other customer touchpoint can also be fully customised to your brand, providing your customers with a complete EV charging experience with your brand in the spotlight.
Example: Retail sector
More and more retail businesses now offer their EV driver customers an experience that starts right at the charging station.
The EV charging service benefits the retail business's brand image and acts as a new revenue generator. EV driver customers can plug in their cars to charge while shopping. That allows them to stay longer at the retail location and spend more money on other services and products the retail business offers.
WHAT DOES A BRANDED EV CHARGING SOLUTION LOOK LIKE?
Let's take a concrete example that we know particularly well: the Virta charging solution.
With Virta, all the customer facing features and components of the service offered to EV drivers are available as fully branded to your brand – logos, colours, fonts and all.
"Our brandable services allow our customers to highlight their brand at all stages of the user experience. This includes their logo, colours, the language or languages of their choice, as well as the consideration of local currencies." - Lauri Saviranta, Director of Consumer Services at Virta
What you can customise: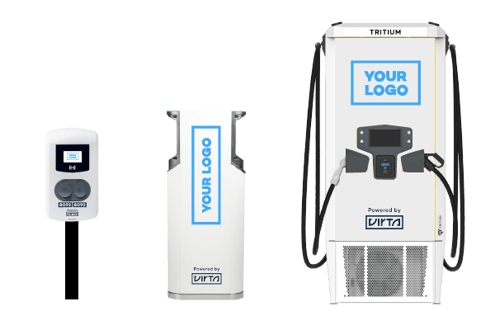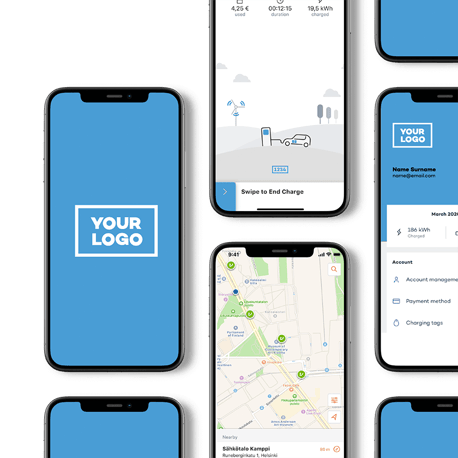 Welcome email sent to end-users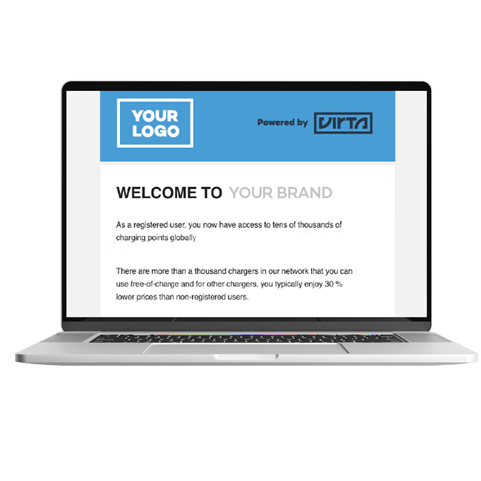 Welcome letter and an RFID tag
Invoices
Customer support communications

HOW DOES IT WORK IN PRACTICE?
The Virta charging platform can be fully customised to your branding. That offers your customers a new yet familiar experience.
Choosing Virta as a partner for your EV charging network gives you access to three different levels of branding:

Offer EV charging services under the Virta brand.

Offer EV charging services under both the Virta and your own brands.

Offer EV charging services solely under your own brand (powered by Virta).
Good to know:
It's also possible to use the screens installed on your EV chargers to show targeted advertising to your customers. It allows you to promote your own services and invites other brands to showcase their promotional messages via your charging points to generate a new source of revenue.
If you want to learn more about building a branded EV charging business, check out our dedicated guide.
To learn more about our EV charging solution as a service, visit our dedicated page or contact us!