Load management energy solutions provide a smart way to optimise energy production, which benefits the power grid and the environment.
It doesn't matter if you own a few EV chargers or are running an extensive EV charging business with hundreds of charging points; energy management solutions will benefit you either way. Furthermore, they can save you a bunch of excess costs.
When multiple chargers on the same site are connected simultaneously, each charger tries to give off the maximum possible power to the plugged-in vehicle by default.
That behaviour might place an unnecessary load on the site's electrical system and can put it at risk. Furthermore, without implementing smart energy management solutions, scaling your EV charging business will be difficult as the electrical infrastructure will have to be upgraded; and that is costly.
That's where advanced energy management solutions come in place. Let's dive a bit deeper.

Dynamic Load Management
With Virta Dynamic Load Management (DLM), you can define the maximum power delivered to all of your chargers and optimise your existing electrical system. It doesn't matter how many cars are charging or how many new charging stations are added; you'll never go over your power capacity.
Adaptive Load Management
Virta Adaptive Load Management (ALM) takes DLM one step further. It takes the whole building's energy consumption into account. So, not only the charging events but for example air conditioning or lighting in the building is also being considered when optimising the charging power. ALM will provide you with ease of mind because the building's electricity consumption will never exceed the available capacity.
Both solutions explained above are already providing a big helping hand in protecting the electricity system and saving you from unnecessary costs. But what if we told you that you can take Load Management even one step further.


PRESENTING THE VIRTA CAPACITY MAXIMISER
Here is where the Virta Capacity Maximiser comes into the picture. This cloud-based smart energy solution takes all your electrical limitations into account. It combines the restrictions from each electrical circuit and evaluates how much charging power should be allocated to each charger. This will leave you charging at full capacity without the risk of blowing any fuses.
This solution is best suited for large sites with many charging points connected to several electricity feeders and circuits. An example of such a place could be a multi-floor car park.
INSTALL MORE CHARGERS THAN EVER BEFORE WHILE SAVING MONEY
The Virta Capacity Maximiser will offer you a significant added value by making the most out of your existing electrical infrastructure. No hefty upgrades, which usually require significant investments, will be needed. You can save up to 50% on infrastructure costs by avoiding them.
What's more, this solution is compatible with all Virta chargers ensuring no limitations to your growth. You won't need to install any additional hardware to fully benefit from this solution.
As you scale your EV charging business, Capacity Maximiser scales with you. You will be able to install even more chargers than with basic Load Management solutions without it affecting the user experience.
CAPACITY MAXIMISER IN ACTION
Let's see how the Virta Capacity Maximiser works in action.
In this example, the main electricity supply of our parking house is 200A, and there are four levels on which customers can park and charge their cars. 100A is available from each distribution board on each of the levels.
Regular setup prevents you from using the full potential of the electricity supply, so the limit for one floor would only be 50A. Now, when EVs are charging only on the first level, as we can see in the picture, the maximum power they can get is 50A, even though the distribution board could allow 100A.
With the Virta Capacity Maximiser, those cars could get the maximum power available from the distribution board – 100A.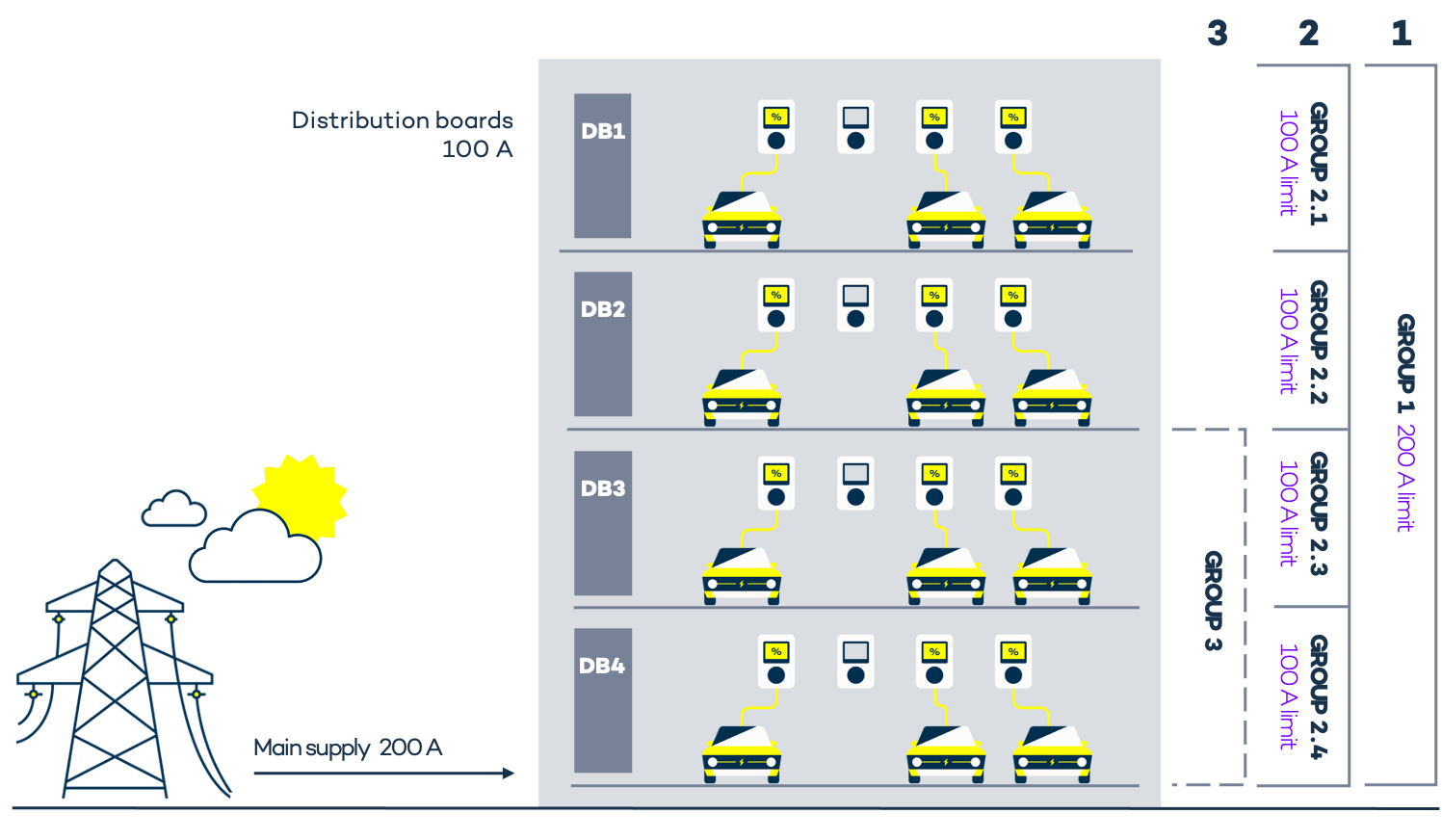 Virta Capacity Maximiser is also compatible with other Virta Energy Services. That means that it will consider restrictions not only from DLM and ALM groups but also from, for example, Congestion Management groups (group 3 in the picture).
TAKE LOAD MANAGEMENT TO THE NEXT LEVEL
Virta Capacity Maximiser acts as an additional service, perfectly complementing your already existing Load Management offering such as DLM and ALM.
Let's recap!
Dynamic Load Management or DLM distributes available charging power dynamically only within the site's limits. Sites with a pool of chargers connected to a single energy supply are what DLM is the most suitable for.
Adaptive Load Management then considers the whole site consumption with an adaptive limit and distributes the charging power accordingly. ALM is perfect for sites with other loads besides EV charging, like office buildings or apartment complexes.
The Virta Capacity Maximiser comes in on top of DLM and ALM by combining all the restrictions from Load Management groups and other energy services. Thus, it fully maximises your charging capacity within set limitations, while satisfying all capacity requirements.
Learn more here if you're interested in more information about our smart energy management solutions.