A recent survey by Virta and the renowned market research company Kantar asked EV drivers in the UK about their EV charging habits, bringing some interesting numbers to light.
It's evident that home and the workplace are still the most common places for EV drivers to charge their vehicles. Real estate companies and developers, take note!


Electromobility is booming on the UK's roads, and the latest figures only confirm this trend. BEV (battery electric vehicles) registrations in the country increased by almost 15% in June 2022 compared to the same period in 2021.

As of right now, BEV is the only car segment that is growing. Looking at the year-to-date numbers, BEV registrations increased by a tremendous 56% to over 115 000 cars compared to 2021.

In addition, the UK announced an end to all new non-electric car sales by 2030. By 2035, all new cars and vans should be fully zero emission. This should finally bring an end to the country's dependence on fossil fuels.

Fact: Almost half of the UK drives or plans to drive an EV
Together with Kantar, over 1 000 people aged 18 to 64 were surveyed in the UK1, leading to interesting insights about Britons' attitudes towards e-mobility. Almost half of the respondents in the UK already drive an EV or plans to purchase an all-electric car (BEV) or plug-in hybrid (PHEV) in the next two years.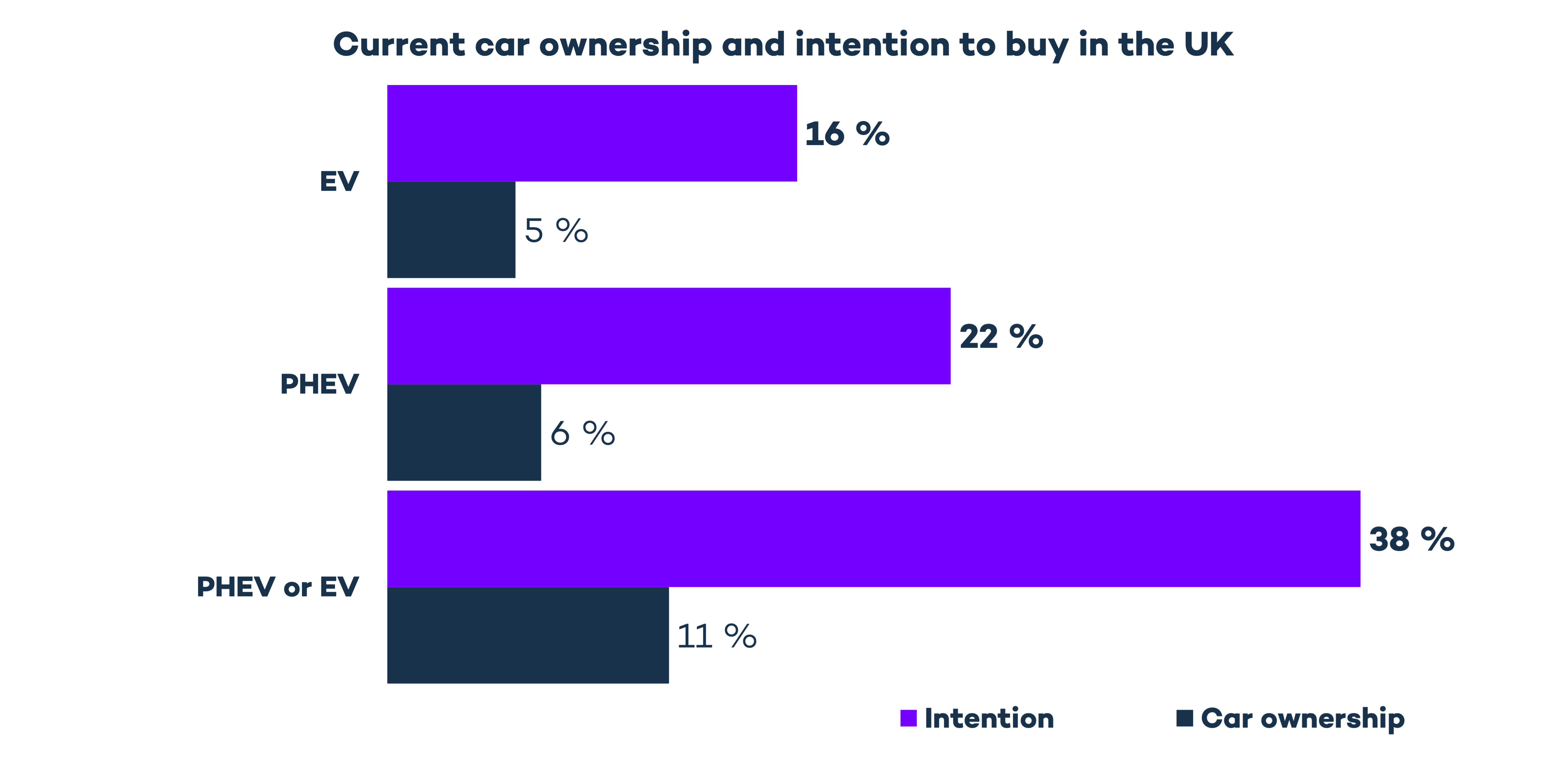 These are strong signals confirming that the future in the UK will be one thing: electric.


EV charging in properties is a must
More and more people are on the road driving EVs, and they will continue to head to their usual day-to-day destinations. Besides shopping, the workplace and home are the other two main places for most people.
Charge your car while you work
A workplace, whether in an office building in the city centre or an industrial area, in a shopping centre in the suburbs or simply in a large industrial plant, is a perfect place to leave your car to charge. Usually, people park their cars at work for approximately 8 hours. For an electric vehicle, that is more than enough time to charge its battery fully.




Source: Virta & Kantar Survey 2022
As the chart above shows, for 60% of EV drivers (plug-in hybrids and battery electric cars) in the UK, charging at the workplace is a must-have feature or key choice factor. For 25%, it has at least some importance and only for a small share of 16%, workplace charging availability holds a little to no significance.

This shows that most EV drivers expect to charge their cars at work. Employers and real estate companies should consider this demand and offer charging opportunities. Companies can use a charging infrastructure to provide their employees with free or discounted charging to increase employee satisfaction and their motivation.

Investing in EV chargers in office buildings and company locations is the first important step towards the electrification of fleets.


Charge your car conveniently at home
The second most important place for EV charging is one's own home. If you live in a private house, you'll most likely install a single wall box charger sooner or later. This is different for people living in city centres and high urbanised areas. Here, you rely on public chargers, preferably fast chargers, that you find while shopping, eating out or meeting your friends. Or, even better, you can use charging stations right in your apartment building, either in the associated parking spaces or in the underground car park. At home, most of the time, EV charging takes place overnight.



Source: Virta & Kantar Survey 2022
Here, the survey shows an even clearer picture. 67% percent, or almost two-thirds of the respondents, consider EV charging at home a must-have or a key choice factor. For only 20%, the home charging option has some importance, while only 13% of EV drivers find home EV charging not so important.

Install EV chargers and adhere to legislative requirements
The signals to real estate companies and developers are more than clear: there is no future without e-mobility. And installing EV chargers in buildings is not only about meeting tenant requirements.

The real estate sector is already encouraged to reduce its CO2 emissions to actively combat climate change. Since buildings account for a significant part of the UK's carbon emissions, many ambitious policies that target the real estate sector have been set. As an example, Building Regulations introduce revised requirements regarding electric vehicle charging.

Having come into force in 2022, every new building with associated parking and those being renovated must have a specific amount of EV charging points installed to ensure easy access to EV charging for its tenants and visitors.

Installing EV chargers is the perfect way to make buildings more sustainable and simultaneously meet the requirements for green certificates, subsidies, and grants.

In addition, smart charging solutions ensure more sustainable and efficient energy management in buildings, helping to stabilise the energy grid and support the increasing production of renewable energy.

At the same time, EV charging can open up new sources of income if you make your charging points publicly accessible.


With Virta as your partner, you can implement EV charging in a matter of weeks instead of months. Your tenants will thank you for it.
About Kantar
The Kantar Group is one of the world's largest data analysis companies based in London. Kantar is now represented in over 90 markets and employs more than 25,000 people worldwide.

1Data collection and processing were carried out according to ISO 20252; n=1049