We know that the fight against climate change needs all of us. Electrification of mobility is one way to lower emissions and get closer to green future. The European Commission is seeking to have at least 30 million electric vehicles (EV) by 2030 – a massive increase from the current 1.4 million EVs on the European roads.
Jari Salo is a graphic designer and a passionate snowboarder. It was the passion for snowboarding (and reading science books), which made him realize that something needs to be done in order to slow down climate change and protect winters, where practicing winter sports would still be possible.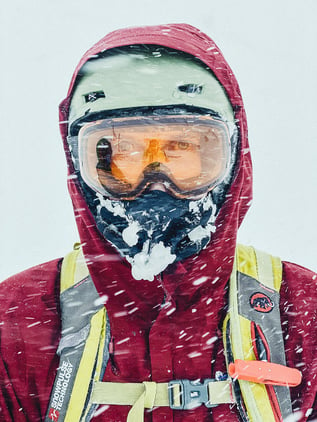 So, he joined Protect Our Winters, POW Finland and has been a board member since 2017. "POW's actions are a way for me to strive to make an impact on a larger scale than I can do with my own actions alone," says Jari about joining the POW forces.

However, Jari is also taking personal responsibility and trying to make his own impact as valuable as possible. One of the steps Jari is taking towards sustainable future is switching to driving a fully electric vehicle. We have asked him some questions about his expectations and the reasons behind buying an electric car.

"With an electric car, I can minimize the environmental impact of my driving. It's better to be a part of the solution than part of the problem."
The best solution to climate change would be not to drive a car at all, but that is not always possible. "You often need a car, if you want to go outside the public transportation grid," says Jari.

In his opinion, transportation in general needs to shift away from fossil fuels completely, and with the current availability of affordable family-size electric cars, there was no reason to postpone the purchase any longer.
Currently, Jari is driving a plug-in hybrid electric vehicle (PHEV), so we wondered, what made him decide to go fully electric. "In my opinion, the plug-in hybrid is excellent for short distance driving, where you can use it only with electricity, but it's always a bummer when the combustion engine starts."

During longer drives, after the electricity runs out, plug-in hybrid works just as a standard petrol-burning car. As Jari tries to avoid driving in the city – where he usually prefers cycling - his driving is mainly long distance, which means that his plug-in hybrid would often run out of battery and start running on gas for the rest of the trip.
Another reason, which made the decision to switch to a fully electric car easier, was the charging time. "The charging of plug-in hybrid is painfully slow. I charge it mainly overnight." Charging an electric car is, on the other hand, far quicker. The charging can be done in 30 minutes thanks to the latest HPC (High Power Charging) stations. These stations make it possible for owners of certain EV models to cut their charging time by up to 70%.
When asked if he has long-distance trips planned with the new electric car, Jari did not hesitate. "Hell yes! I've been dreaming of driving to the Alps. Going to Norway for split boarding trips or climbing is tempting when the Covid situation allows it."

From the charging point of view, trips like these are not just a dream anymore: In 2020, there were over 200 000 public charging points in the EU, as well as an average of 19 fast public charging points per 100 km on European highways. EV drivers can thus drive basically anywhere they want, worry-free. Range anxiety is a thing of the past even on long drives.

Jari often drives with his family to their cabin in Lapland. "I hope that the high-speed charging network will soon expand to Northern Finland, but I'm not too worried about it. It will happen anyway." There is already an extensive charging infrastructure implemented in Finland, but as the number of EV drivers climbs, so will the number of charging points.
All in all, buying an electric vehicle surely is an exciting thing. Not only it is the right step towards mitigating climate change, since the future is electric, but hopefully, in Jari's opinion, EVs will make transportation a bit more fun, too.

Photo credit: Action shot by Antti Hinkula, portrait by Erkki Izarra