In the world of EV charging, service operators have various options on how to price EV charging for their customers. But often, the pricing tariff is fixed and doesn't reflect the reality of ever-fluctuating electricity prices.
Electricity prices are subject to constant changes. During off-peak hours, usually, during the night, electricity will be cheaper due to lower demand. In the case of renewable electricity production, the higher it is, the lower the prices will be. All in all, electricity prices naturally fluctuate.
This means that one set pricing tariff for EV charging can never reflect real prices. At Virta, we saw the need for increased flexibility and developed a solution.
WE PRESENT: ALTERNATE TARIFF
Virta's pricing system allows Charging Point Operators (CPOs) to add an additional tariff setting that replaces the default tariff at a set time period.
You can easily set up, edit, activate, and remove alternate tariffs with just a few clicks on the Virta Admin Panel. More than one alternate tariff applied to the same hours and days of the week can be created, but only one can be activated at a time.
An example:
Your default tariff is based on the kWh charged. Currently, it's priced at 0,25 € per kWh at all times.
Now, you want to offer off-peak charging for lower prices. You set up an alternate tariff for 0,12 € per kWh for Monday to Sunday from 10 PM to 7 AM.
Your default tariff is still in use, but during off-peak hours, it is replaced by the alternate tariff, and your customers charge for off-peak electricity prices.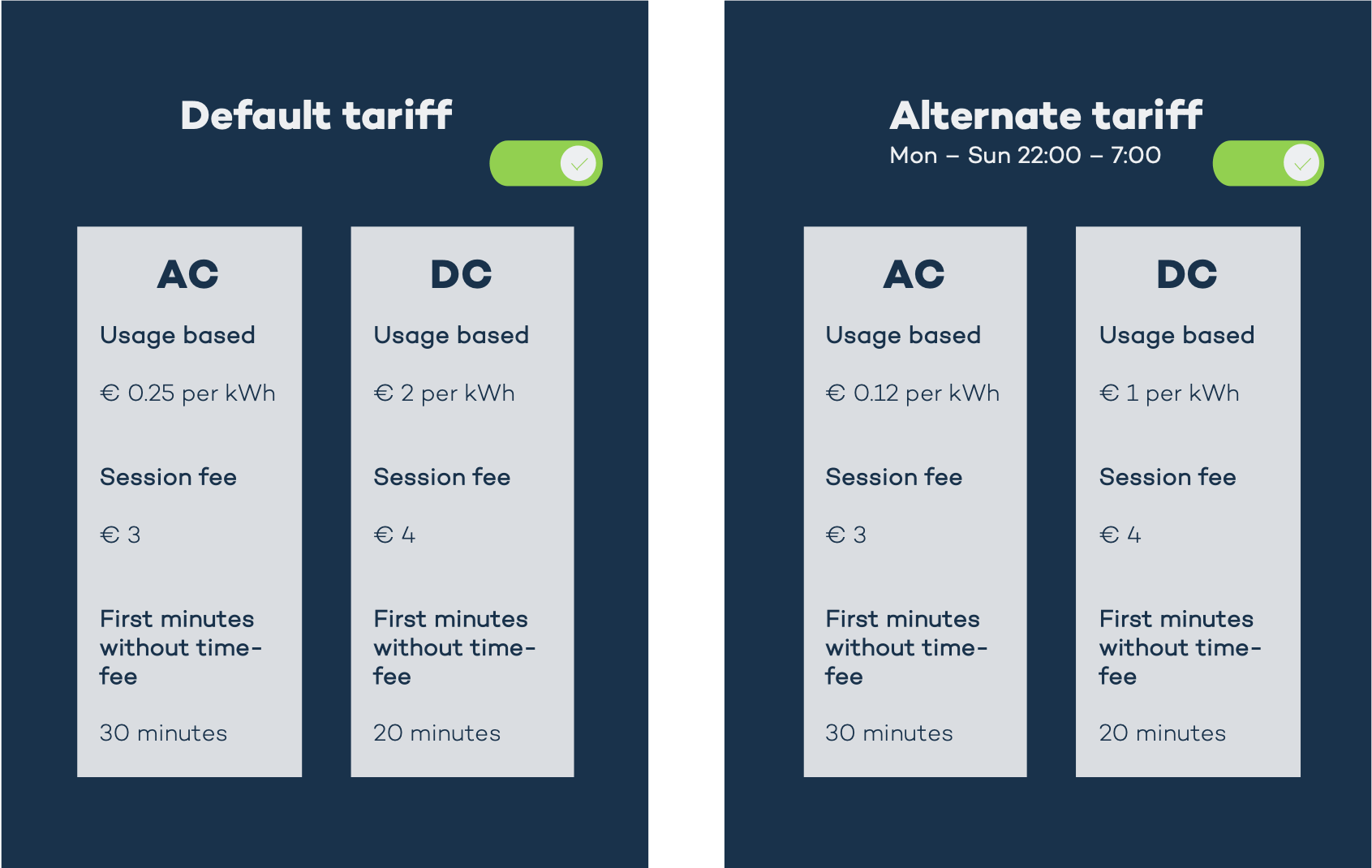 WHAT ARE THE BENEFITS?
Control profitability
The price of electricity is not stagnant; it varies during different times of the day or even different days of the week based on electricity demand and the availability of generation resources. By setting up alternate tariffs, you can customise the pricing of EV charging for your customers based on varying electricity prices and electricity demand. In the end, this strengthens the control you have over your profits.
Control demand
Dynamic and customised pricing will have a direct impact on your customers' charging habits, most importantly, the times they choose to visit your charging points and charge.
Offer transparency
Setting up different pricing tariffs based on real electricity prices brings transparency to your customers and guests. This way, you ensure that you don't under or overcharge them. Naturally, being transparent with your customers will boost their loyalty to your EV charging service and keep the happy customers coming.
Support renewables
Naturally, when the production of electricity from renewable sources such as the sun or wind is higher, the electricity prices are lower. You can reflect these lower prices by setting up an alternate tariff and charging less when renewable production is up. Shifting to renewables is vital if we want to help fight climate change, and matching charging prices with high renewable production is a great way of supporting this shift.
increase flexibility with alternate tariffs
In conclusion, charging service operators can choose how to price charging for their customers based on different pricing models. We've explained them all in this blog post.
But to make EV charging as fair and transparent as possible, being able to set different tariffs to increase flexibility and reflect real electricity prices as well as possible, is necessary.
That's exactly what Alternate Tariff enables.