Summary
Car Charged UK, an electric vehicle charge point consultancy company, needed a partner who would quickly help them scale up their EV charging business. With Virta's "plug-and-play" solution, Car Charged UK was able to install their first set of branded chargers powered by Virta at Ravensthorpe Retail Park in January 2020. Even with the onset of the pandemic, their growth has been impressive, and new drivers are registering every week at an accelerating speed.
"Virta's EV charging platform was ahead of the game, and their comprehensive end-to-end service was exactly what I was looking for."

— Lionel Mathia, Managing Director of Car Charged UK
Car Charged UK is an electric vehicle charge point (EVCP) consultancy company for commercial businesses, destination places, and large workplaces across the UK. Car Charged UK is based in Mansfield Woodhouse and was born out of S&L Electrical, a well-established, nationwide electrical company that has been operating since 2002.
Starting point
Car Charged UK has been installing electric vehicle charging stations for over seven years and has seen the steady growth of EVs in the UK. It was clear to them that the demand would soon skyrocket, which is why they wanted to stay ahead of the competition.
"Over the years, we have seen quite a lot of bad installations and changes in the electric vehicle industry in terms of regulation and government policies. We saw that there was a big opportunity in the EV charging business when you invest more effort into finding the right software, equipment, and service partner," said Lionel.
Lionel looked into several options, and while there was an abundance of decent EV charging devices on the market, there weren't many companies that offered a full end-to-end solution. As an example, most of the options lacked the full back-office solution in their offer. During the tendering process, Lionel would also often run into several hidden costs.
"We needed an easy solution that would quickly help us scale-out and cost-effectively grow our business," shared Lionel.
Plug-and-play solution
When Lionel set out to find a solution partner, he, like many in the UK, had the impression that the Nordic countries were forerunners in EV technology. As he did his research, he came across Virta.
After reviewing several proposals and talking to different providers, Lionel learned that there were a substantial amount of resources needed to run an EV charging business. He started to realise the value of preventing hidden costs that would quickly add up. That's when Virta's package stood out.
"From the installation point of view and taking into account the realities in the UK market, a plug-and-play type solution was a must for us. Virta was not the cheapest option, but it was definitely the best – unbeatable value for our money," said Lionel.
To illustrate how Virta simplifies the process of starting an EV charging business, see the diagram below comparing purchasing hardware through Virta versus other providers. Keep in mind this is only the hardware part of the process.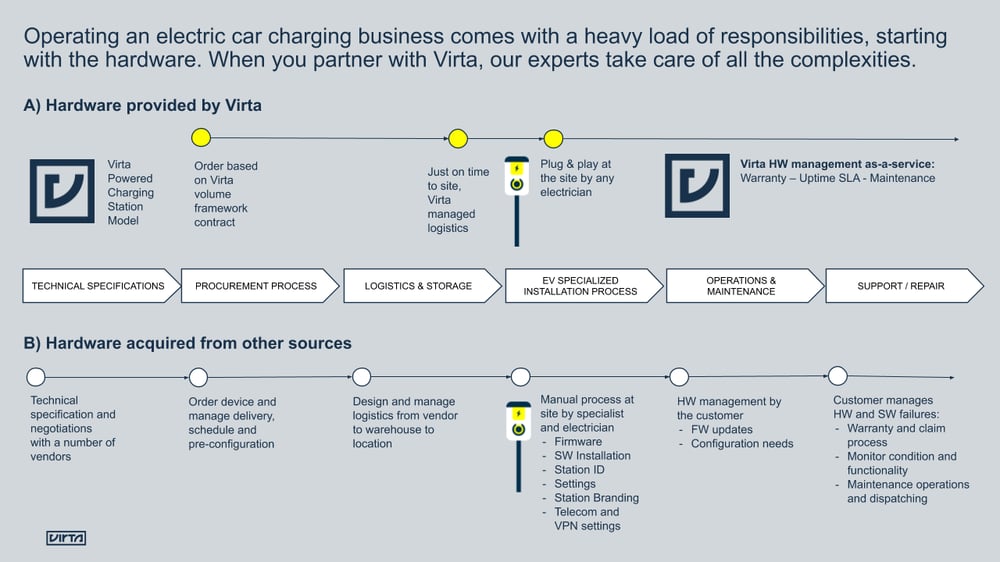 Virta provided Car Charged UK with:
Car Charged UK branding on charging devices
Pre-configured EV charging hardware
Virta back-end system for EV charging infrastructure management
Payment services: Electric car drivers can use charging stations with a mobile application, RFID tags, or a one-time payment solution. All payments are automatically transferred to the charging station owner monthly.
Intuitive branded mobile app for end-users
Scalable and robust
One of the biggest pain-points that Car Charged UK ran into was onboarding electrical engineers. With Virta, they were able to create a scalable business model for their own electrical engineers, as well as other electricians they wanted to bring on from the ECA (Electrical Contractors' Association).
In terms of cabling for EV chargers, electricians typically know what to expect. Where they often struggle is installing and configuring software for charging devices. With Virta, Car Charged UK and their electricians didn't have to worry about this.
Whenever Virta hardware is delivered directly to any of Car Charged UK's customer sites, everything is pre-configured and ready to be installed and turned on.
"Everything arrives ready to be powered on with a GSM SIM card. It is so easy for us to work with. Since the Virta back-end system sits on the cloud, everything can be done remotely which makes it so much easier for the installer. Virta takes care of it all," explains Lionel.
In January 2020, Car Charged UK installed their first set of branded chargers powered by Virta at Ravensthorpe Retail Park. The outdoor style retail parking area has 280 spaces, and as of October 2020, a total of over 60 chargers are in operation.
"We have only been live since January 2020, and in this period we have had over three months of lockdown. Considering this, the growth has been impressive, and new drivers are registering every week at an accelerating speed," said Lionel.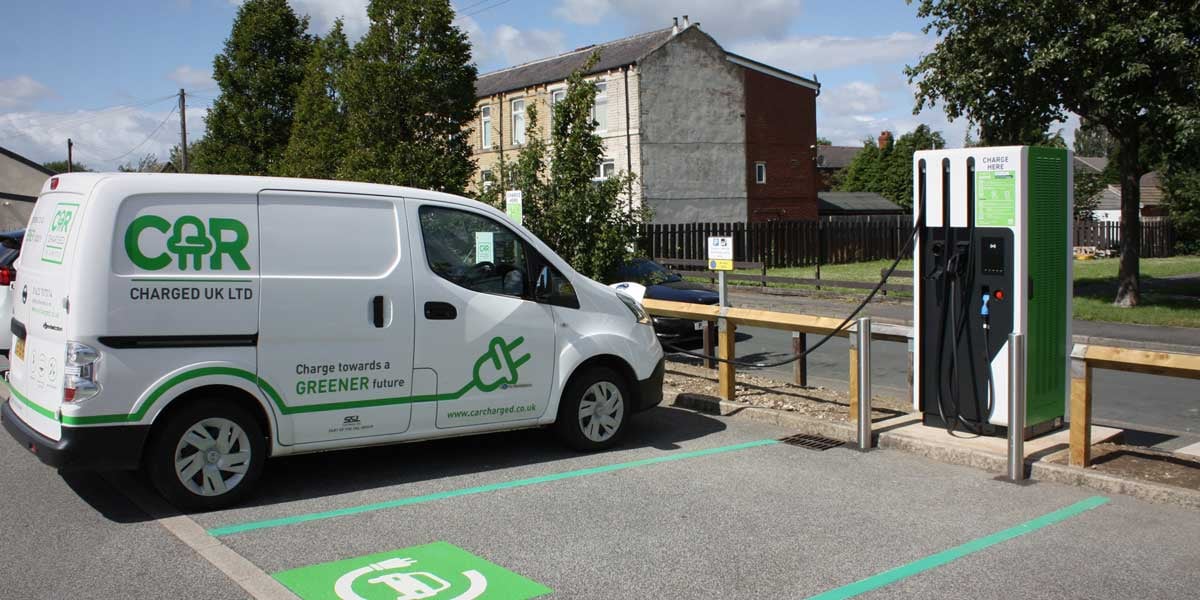 Visionary partner
Virta's intelligent charging solutions allow Car Charged UK to support sustainable green mobility and provide EV drivers with the ultimate customer experience.
"Virta has been the total package. They have visionary ideas and provided us with a scalable and robust solution. The whole process of communicating from start to finish is effortless from the quotations, getting the solutions, and ensuring our customers are up and running smoothly. Our business is based on SLAs, which is why we aim to pick up long-term service agreements with our customers. The close relationship with Virta's key experts, support staff, and sales team is paramount for us to be able to do this. We need to provide quick responses to enquiries, and Virta has been there every step of the way," said Lionel.
The future is looking green
In addition to the Ravensthorpe Retail Park, Car Charged UK will be installing EV chargers at the Ravensthorpe Shopping Park in Dewsbury along with additional locations in Newport, Glasgow, Sheffield, and Northampton.
While the EV uptake in the UK is not that high yet, it is clear that the demand for EV charging will quickly rise in the near future.
"The nearby city of Leeds will shortly introduce congestion charges. The city has planned for a Clean Air Charging Zone (CAZ) which will mean restrictions for fossil fuel-powered vehicles. Drivers of non-environmentally friendly HGVs, buses, taxis, and private hire vehicles will face a daily charge for using certain roads in and around the Leeds city centre," explains Lionel.
Moreover, the British government will implement a ban on selling petrol, diesel, and hybrid cars from 2035, which means UK consumers will only be able to buy electric or hydrogen vehicles.
"We are receiving plenty of enquiries from all directions. Despite the setbacks of COVID-19, we are still growing. Next year will be a big year for sure, and together with Virta, we are ready to reap the benefits of being an EV charging forerunner," remarks Lionel.
If you'd like to learn more about Virta's Branded services, check out our e-book, "What It Takes To Run an EV Charging Business."