Summary
Weland AB manufactures and delivers metal and sheet metal products in Sweden. The company has its HQ and factory in Smålandsstenar, Sweden, where the first Weland EV charging stations were installed in 2019.
Stepping into the EV charging business was a self-evident next step for the environmentally-aware company. However, finding a service provider who matches their high requirements and understands their business goals turned out to be a tricky task. Until they heard about Virta. The Virta charging as a service solution provides Weland an opportunity to improve their business performance by offering effortless charging experiences

Weland AB is a Swedish supplier and manufacturer of spiral and straight staircases, railings, ramps, walkways, lattice floors, mezzanines, and sheet metal products. In 1947, two brothers-in-law founded the company in Småland, Sweden. Since that, Weland has grown into a business leader. Currently, the group comprises over 1200 employees, more than 25 subsidiaries, and several offices in the Nordics.
First-class service with a sustainability focus
Weland aims to provide the highest level of service to each and every one of its customers. This is also one of the reasons why Weland decided to take the next step towards more sustainable policies and serve its customers with the possibility to charge emission-free vehicles.
Sustainable values, environmental consideration, and efficiency have been at the core of Weland's business since the early days. To increase energy efficiency and minimise the environmental impact of the core actions, they have been utilising the best available technologies and constantly developing the processes to achieve higher utilisation of materials and energy. With a goal-directed environmental policy, Weland desires to do its share in the global climate actions.
Weland is also a part of Klimatklivet, a national program to increase investments that reduce CO2 emissions.
"We have focused on sustainability because we have the prerequisite to do so and because we think it is fun", says Jonas Holmgren, Environment and Certification Manager at Weland.
In recent years, Weland obtained significant energy savings by investing in solar energy and geothermal heating. A natural next step towards becoming more sustainable was to start supporting the rise of electric mobility. As the parking space at Weland HQ was redesigned and renovated thoroughly, the company decided to also install EV charging stations in the parking area.
"At Weland, the interest and trust in new solutions, including electric mobility, is very strong. It's something that we all have in common at Weland Group", says Holmgren.
The demand for EV charging was versatile since the stations were planned to serve both internal transport as well as employees and visitors. To serve multiple different use cases and enable a painless charging experience, Weland wanted to find a service with a smart control system for the chargers and payment and billing system that would be painless to manage.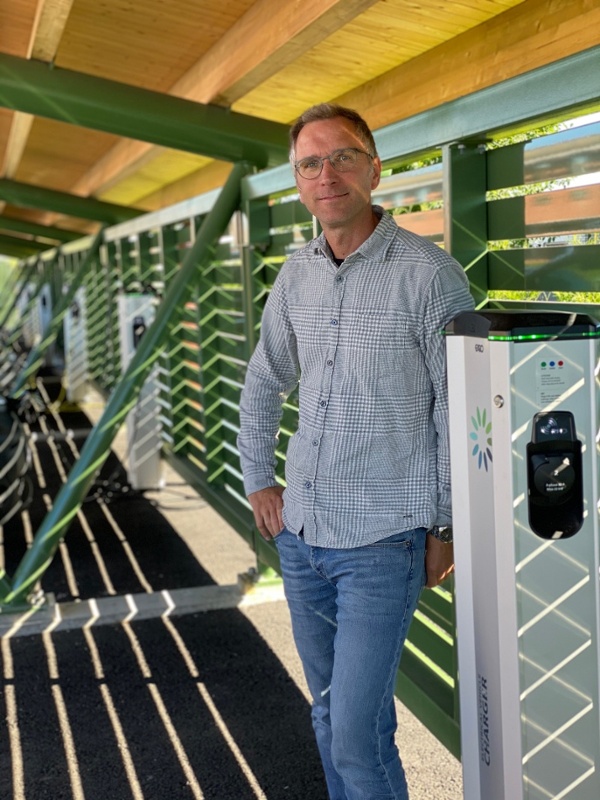 "We will rather install too many chargers at this point than too few, since the numbers of EVs is increasing all the time." says Hans Larsson from Weland.


Optimal user-experience and simple interface for charging

Running an EV charging service on your own is not an easy task. A lot of responsibilities are involved in creating a comprehensive user experience. Purchasing charging as a service, however, gives the service provider all the benefits without complex responsibilities and hidden costs. Simplicity was the key for Weland when they were looking for a suitable charging partner.


Easy to use, easy to manage, easy to expand when the local EV market starts to prosper.
At first, Weland contacted charger manufacturers and asked for their recommendations for charging service providers with comprehensive business understanding. A few EV charging service providers were mentioned and considered, but finally, it was the uncomplicated, user-friendly services of Virta that impressed Weland. The business goals of Weland were perceived thoroughly by Virta, and the service offering was created to support growth and create positive business impact.
Virta sales representatives came up with a proposal that suited the needs of all the different charging station user groups and was easy to put to use and maintain. With Virta comprehensive charging package, Weland now offers its employees and visitors charging with a unique customer experience, while Virta handles all the practical matters related to running a charging service. The overhead costs of the service are low and maintaining the chargers is effortless for the Weland representatives.
"The Virta system makes it easy to keep track of statistics and the status of chargers. We wanted something stripped down, and Virta provided it to us", states Hans Larsson at Weland.
Virta takes care of station management, health checks, payments and billing, whereas Weland can control the charging prices and view statistics easily with the management tools. In case of any issues, Virta's technical support team is available for Weland.
All customers using the charging stations engage with customer touchpoints individualised for Weland. Identification and paying are possible with various methods: a handy mobile application, RFID card, or a key chain. All other charging stations in the Virta network are available for Weland's charging customers. In addition to these, over 150 000 stations are available for EV drivers around the world via the Virta roaming networks – simply with the same identification and payment method that EV drivers use at Weland's stations.
Weland strives to increase the number of electric cars within the company. Their goal is to procure more electric vehicles for the company and broaden the charging services to various offices. During the first phase, 28 charging points were installed in Smålandsstenar, Sweden.


Starting point
Weland wanted to proceed on their chosen path of supporting new technologies and making climate-friendly choices – therefore it was time to start charging. The goals were rather ambitious: they were looking for a solution that would enable growth, fit together with their core value of providing high-class services, and simultaneously be easy to operate and utilise by end-users.
Solution
Virta provided a charging as a service solution, that enables an effortless charging experience for EV drivers. The solution outsources all operational work to Virta, and leaves Weland with a service that brings them maximum benefits with minimum effort. Logistics, employees and visitors at the headquarters are now all charging at stations branded for Weland, and many more stations will be added to the network in the near future.