Like with electric vehicles, the deployment of electric buses has accelerated in the past years. This is mainly due to the volatile oil market, national energy policies and environmental requirements, such as restricting diesel combustion engines in inner city areas.
Economic factors are also becoming increasingly important. As the sales of electric buses and their charging units increases and the average costs of batteries come down, electric buses are seen as an economically viable option for the future of transportation by many cities and bus operators.
Economic efficiency and reliability are crucial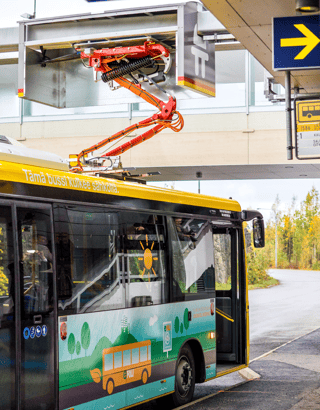 The challenges with electric buses and their charging infrastructure are similar to the challenges already seen with electric passenger vehicles. Just like with EVs, there is a new network of stakeholders involved in the deployment of electric buses: city officials, transportation authorities, utilities, bus operators, charging infrastructure owners, and the end-users, ie. the bus drivers.
Firstly economic efficiency is important. Bus routes should be planned so that charger utilization is maximized and thus investments are minimized. Using routes that share the same terminus is an efficient way to start, as electric buses are charged while they wait.
Secondly reliability has to stay on a high level at all times. Electric buses have to be able to charge at specific times at specific locations. Troubleshooting for ten minutes can mess up the bus schedule for the whole day, especially if the same chargers are being used efficiently by several buses.
A backend service provides visibility to charging
A backend service is vital for the electric bus ecosystem. Operators need to be able to monitor performance data from chargers to keep reliability high. With a proper dashboard operators can handle maintenance alerts and error notifications fast to minimize downtime.
A flexible backend service provides visibility for all stakeholders. For example charging cycle data from different conditions can be used to design future electric bus routes. It also makes economic sense to log maintenance reports for the whole duration of the charger life cycle, as they will help in warranty related matters and stakeholder performance thus helping to lower costs.
Virta's backend service keeps electric buses running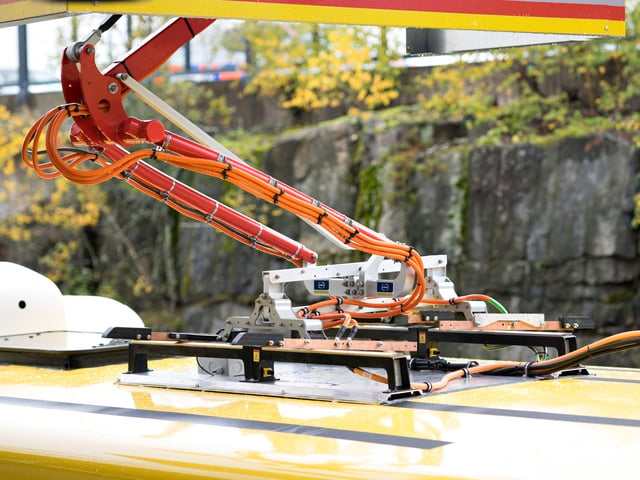 Turku Energia's opportunity charger
Virta is the innovation leader in electric vehicle charging solutions. As a new venture Virta has provided a back end service for electric bus charging in Helsinki and Turku. Virta's back end is compatible with all OCPP charging devices.
Helsinki City Transport HKL chose Virta to manage their charging infrastructure and invoicing. HKL is deploying several 400 kW opportunity chargers during 2017-2018. In 2017 HKL will have 12 buses in use.
Turku Energia uses Virta's back end service to manage two 300 kW opportunity chargers and six 50 kW depot chargers serving 6 electric buses during spring 2017. Turku Energia has been able to increase their performance with clear visibility to the charging infrastructure.
"With Virta's system we are easily able to monitor the status of chargers and get information of their performance. The system is used in daily operations to review energy consumption, charging times and most importantly possible problems. As electric buses and their chargers represent new technology, Virta's systems have helped to improve the up-time of chargers", says Mikko Holopainen, Project Manager at Turku Energia.
Turku Energia benefits also from using the same service for managing both bus and passenger vehicle charging devices. "For us it is convenient that all charging stations which we manage, regardless if it is passenger car or electric bus, can be found from one single system", Holopainen continues.
If you're interested in hearing more about our services, contact us today.