Virta Ltd. (Liikennevirta Oy) has been ranked as the fastest-growing electric vehicle charging platform in Europe by the Financial Times on their 2020 FT 1000 list. The FT 1000 ranks Europe's fastest-growing companies annually - Virta's overall ranking on the list is 179.
The Global EV charging operator Virta - founded in 2013 in Finland, has become the innovation leader of intelligent electric vehicle charging technologies and one of the top players of the industry in Europe. The European electric vehicle market is growing rapidly and Virta is growing five times faster than the general market average.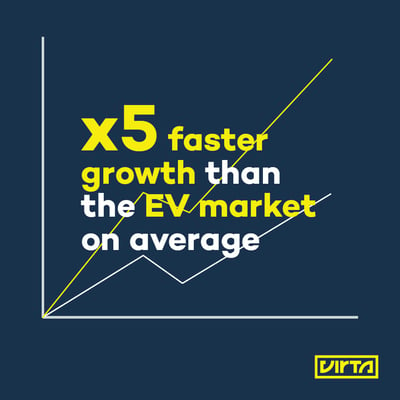 "The pace of transition from oil to electricity is now accelerating exponentially with digital energy platforms like Virta driving the new energy economy. The growth is currently coming mainly from Europe, in future also from other continents.", says Jussi Palola, CEO of Virta.
"The FT1000 ranking is a great recognition for the company, communicating that our team is doing the right things. Moreover, it is promoting the cleaner and carbon-free future of mobility and energy.", Palola continues.
Today, over 300 charging network owners with over 50 different brands from 28 countries are operating their charging services on the Virta platform. Virta has offices in Finland, the United Kingdom, Germany, France and Sweden.
Virta's digital energy services allow optimisation of the energy flow of charging stations, avoiding energy peaks and reducing the cost for the end-user. This helps to take the environmental benefits of electric vehicles to the next level by providing flexibility in the energy system.
Two-thirds of today's global combustion CO2 emissions are produced in the sectors of transportation and energy. Electric vehicles reduce oil-based emissions on a significant scale and play a key role in responding to the global concern of climate change.
Electric vehicles are essential in the energy transformation: the electrification of transportation has a direct impact on the decarbonisation of electricity production. Renewable energy production increases the need for balancing power in the energy systems and electric vehicles are the most essential new source of flexibility.