Vehicle-to-grid (V2G) is without a doubt the most hyped concept in the EV charging industry. But what does it actually mean, how does it relate to bidirectional charging, and what does it have to do with smart EV charging?
There is no shame if you feel confused when hearing about V2G. The term is being tossed around here and there, sometimes even without any meaning. The thing is that V2G is being used to describe different things in different contexts.
Vehicle-to-grid vs. bidirectional charging
We at Virta take V2G quite literally. For us, V2G means communicating with the energy system in order to provide stability, i.e. providing demand response services.
With electric vehicles, we can provide two types of such ancillary services. Firstly, charging power can be throttled down when needed. Secondly, electricity can be returned back to the electrical grid by using bidirectional charging solutions.
In some contexts, V2G is used as a synonym for bidirectional charging. But in fact V2G is much more than just bidirectional charging, which is why we at Virta talk about bidirectional charging as that's what it literally is.
What is bidirectional charging?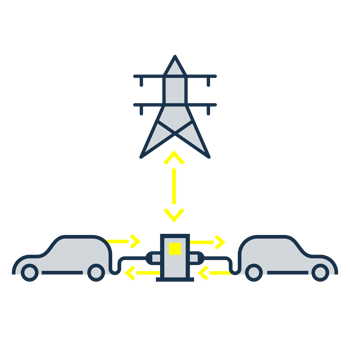 Bidirectional charging is what it literally sounds like. With a little help of the newest technologies, we can either push electricity to the EV battery or electricity can be taken from the car battery and pushed back to the grid. For the technology to become mainstream, two things are required.
First of all, charging devices and electric vehicles need to be compatible. Currently no charging device is available off-the-shelf, but this is bound to change soon. Currently Nissan is the only car manufacturer to have production vehicles that support the technology.
Furthermore, we need more electric cars on our roads. Or to be precise, larger scale on the roads is not enough, as V2G requires the cars to be plugged in to the grid. Thus, consumers need to be engaged to participate - in large enough quantities.
What is Virta doing with bidirectional charging?
We are already developing both technologies and business models for our customers to use bidirectional charging. In practice, we need to control charging based on a signal given from the energy system; aggregate EVs and mediate value captured to them; and most importantly create an engaging user experience.
To see how things work in the real world, we partnered with Nissan and Helen and opened the first public bidirectional charging station in Helsinki in 2017. The charging device at Suvilahti is being used for our R&D projects but can actually be accessed by anyone with a CHAdeMO socket in their vehicle.
Want to learn more about vehicle-to-grid?
Check out our comprehensive guide about the future possibilities of V2G here >>
---
If you got interested, drop us a message and we'll take it from there.
Psst! You might also be interested in reading our EV Charging Business Guide. Download your free copy today!