The boom of electric mobility is growing worldwide, with the electric vehicle (EV) charging market following suit. Airports, as one of the major transportation hubs, are the perfect place for EV charging. In fact, the airport EV charging station industry is predicted to generate over 1.2 billion EUR by 2031. The time to get on board is now.
In this blog post, we will explore:
The benefits EV charging brings to airport operators
The types of EV charging best suited for airports
The must-haves of a charging solution for airport EV charging
THE ELECTRIC VEHICLE MARKET IS ON THE RISE
As the European Union is gearing up to reach climate neutrality by 2050, electric vehicles will play an integral role in achieving this objective. According to IEA, in 2022, EV sales in Europe grew by over 15% compared to 2021.
And it's not only Europe where EVs are gaining traction; the growth is happening worldwide. In 2022, there were 26 million EVs on the roads globally, up by 60% from 2021.
This growth needs to be supported by the widespread installation of EV charging infrastructure, so EV drivers can charge their cars as conveniently as they would refuel a regular ICE.
AIRPORTS PERFECT FOR ELECTRIC VEHICLE CHARGING
Sustainable travel has become a popular trend among travellers worldwide. In 2022, Booking.com ran a survey where 81% of travellers said sustainable travel is important for them.
With transportation being one of the major parts of travelling, travellers are looking for more sustainable options, with electric mobility being one of them. And as we already mentioned, the rise of e-mobility needs to be supported by sufficient EV charging infrastructure.
And what better spot for electric vehicle charging than an airport? Since airports are major transportation hubs attracting thousands of travellers daily and have a continuous turnover of arriving and departing vehicles, EV charging possibilities are necessary.

Now, let's explore all the benefits EV charging can bring to airport operators.
THE BENEFITS OF EV CHARGING AT AIRPORTS
Accelerating the journey to emission-free operations
In 2023, the aviation sector accounted for over 2% of global energy-related CO2 emissions. The growth of these emissions has been faster in aviation than in any other transportation sector like road, rail or shipping.
Airports everywhere are actively trying to reduce their environmental impact by switching to emission-free operations. Making land traffic from, to and inside the airport electric is an important step.
To succeed, airports need a reliable EV charging infrastructure that serves passengers, employees, taxis, and own ground handling vehicles.
By offering EV charging on-site, airports support clean transportation, establish their brand as a sustainability forerunner and appeal to more sustainably oriented clientele.
Meeting your passengers' needs
The fact is that passengers are becoming EV drivers who need to charge their electric cars. EV charging is no longer a 'nice-to-have'; as the number of electric vehicles quickly grows, it's becoming necessary. And if airports don't cater to their EV-driving passengers, they will drive elsewhere.
Not to mention, the inability to conveniently charge is still a major worry for consumers considering switching to EVs. Offering airport chargers can ease the concerns and significantly help EV adoption. And not only for frequent travellers.
Opening up a new revenue stream
Not only will airports cater to the newfound needs of their customers and support green transportation, but EV charging can open up a whole new revenue stream.
Airport operators can choose to set the tariff for EV charging as they see fit:
Time-based
kWh-based
Fixed price
Combination of time- and kWh-based
Once the prices are set, the revenue will come rolling in. And as the number of charging sessions grows (which it will), revenue will grow with it.
DIFFERENT TYPES OF EV CHARGING FOR AIRPORTS
Standard charging
Travellers who drive their EVs to the airport and park in the long-term parking lot can leave their car charging over their trip and return to a fully charged car. Airport employees who drive electric can also leave their cars charging for several hours.
These are both examples of where standard AC charging serves its best purpose. Charging can be done over the course of multiple hours with a current of a maximum of 22 kWh.
Fast charging
Fast charging is a type of DC charging that fully charges an EV in the span of 0,5 to 2 hours. For example, this gives the EV driver time to grab a cup of coffee or a meal from a restaurant in the airport's arrivals hall.
Ultra-fast charging
Ultra-fast charging takes it up a notch and cuts the charging time to only up to 30 minutes. For 80% of battery, even 20 minutes should suffice. Airports can install ultra-fast chargers in short-term parking lots and serve electric taxis, buses and other vehicles that only do a quick pit stop at the airport.


Read our blog post on AC and DC chargers and their EV charging capacities.
CHARGING BOTH LANDSIDE AND AIRSIDE
Electric vehicle charging doesn't have to serve only passengers and employees landside (where the general public has access).
Airports looking to curb their emissions often aim to electrify their vehicle fleets airside (the area used by the aircraft), and an EV charging infrastructure can be installed to support this electrification of ground-handling vehicles.
A good charging solution offers simple management of all EV charging operations, no matter if land- or airside.
But that's not all; a good airport charging solution has a few other must-haves. Let's learn what to look for.
CHARGING SOLUTION MUST-HAVES FOR AIRPORTS
Smart energy management
Airports often have limited electrical capacity, and installing EV charging infrastructure can result in expensive electrical upgrades. But with the help of smart energy management, these upgrades become unnecessary.
Energy management solutions like Dynamic or Adaptive Load Management distribute available electricity to all charging vehicles and ensure the power threshold is never exceeded, no matter how many cars are charging.
Fleet management
Airports electrifying their own fleets of vehicles need an easy-to-use solution to manage the vehicles and the energy necessary always to have them ready to drive.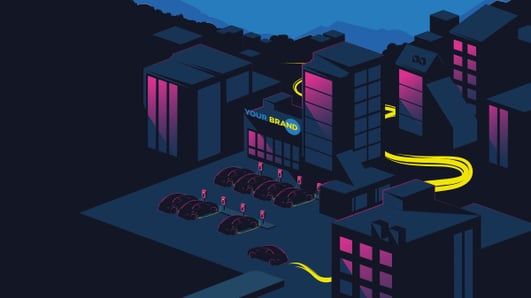 Access to data
The electrification of incoming airport traffic will only intensify in the future. Accessing charging data is a big help for airports in creating future-proof EV charging strategies. Getting familiarised with the charging habits of customers and EV chargers' utilisation rates helps to plan accordingly for an electrified future.
START YOUR EV CHARGING OPERATIONS NOW
Travellers expect to be able to charge their EVs at airports. And airports risk losing customers if they don't cater to these needs and expectations. In addition, your employees are probably also asking for EV charging points, and electrification of your ground-handling vehicles is just behind the corner.
So, are you sold on the idea of equipping your airport parking with EV charging but need help figuring out how to get started? Launching EV charging operations can come with quite a few complexities – from finding suitable hardware to dealing with EV driver support.
A reliable partner that handles the complexities on your behalf and helps you keep your head clear and your eyes on the prize – emission-free operations, satisfied customers and a new revenue stream, is key.
And that's where Virta comes in.
Our end-to-end charging solution allows you to deploy a functional EV charging service in a matter of weeks with only one contract and no hidden costs.