The workplace is already one of the most convenient places to charge an electric vehicle. For many EV drivers, charging at work will become the norm in the future. As an employer, you can anticipate the future demands of your employees by equipping your premises with EV charging now.
According to EV Volumes, the number of EVs sold in the first half of 2022 was 62% higher than in 2021. More and more consumers are making the switch, and EVs are here to stay. By 2030, it's predicted that EVs will make up over 60% of all vehicles sold globally.
This raises the question of where can all those new EVs be charged. With more and more people moving into residential complexes, the possibility of installing their own home charger is out of the question. That's where workplace charging comes into the spotlight.
In the future, charging an EV at work will become increasingly important. Not only are parking spaces already available in most office buildings and complexes, but cars are usually parked there for approximately eight hours – the perfect time to charge your car with a regular AC charger.
In a survey we've conducted together with Kantar, we found that for almost 60% of EV drivers globally, charging at their workplace is a must-have feature or key choice factor. Only for 8% of EV drivers, workplace EV charging availability holds no significance.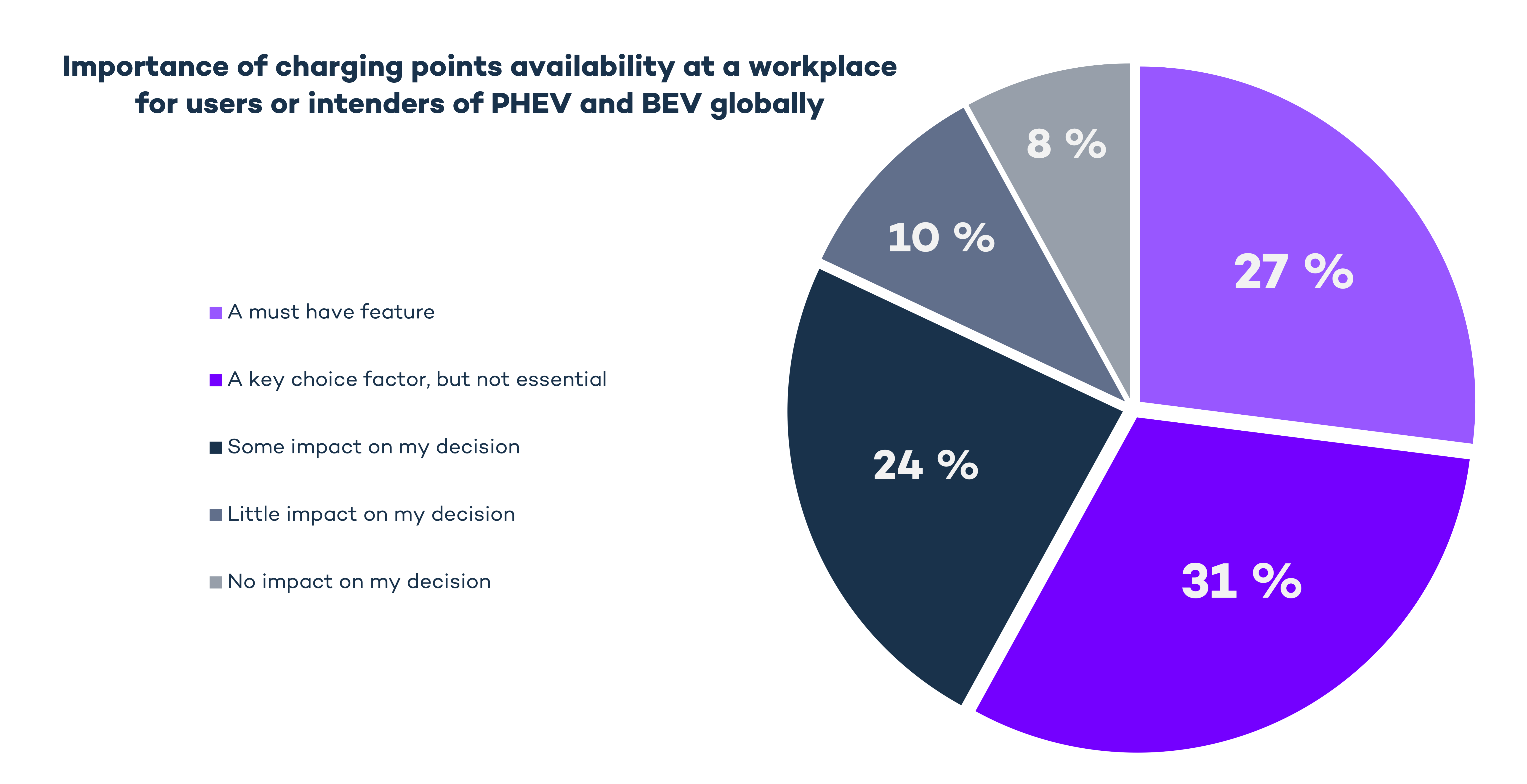 THE BENEFITS FOR EMPLOYERS

AT A GLANCE
Strengthen

employee experience & employer branding
The chart above clearly proves that your employees want to charge at work. Offering EV charging at your company's premises helps ease the range anxiety of your EV-driving employees and strengthens their overall experience.
EV charging also plays a vital role in your employee branding. It's an attractive service that helps you appeal to top talent and improve employee retention. In addition, EV chargers incentivise your employees to come to the office more often.
Forerunner in sustainability
By installing EV chargers at your premises, you actively help to reduce CO2 emissions and contribute to the transition to a low-carbon economy. That makes you stand out from the competition, and your company can become a pioneer of the e-mobility revolution.
Enhance

your image
With EV chargers at your company's premises, you show a commitment to the electrification of mobility, which is an increasingly important part of solving the climate crisis. By promoting sustainable transportation, you position yourself as a sustainable company and increase the attractiveness of your brand.
Electrify your fleet
If you provide your employees with EV charging, you're only one step away from electrifying your entire fleet of company cars. The charging infrastructure is already in place, making the switch much easier.
SET

YOUR

PRICES

(OR DON'T)
If you put EV chargers into operation for your employees, it's up to you whether you want to set prices for the charging. You can set a price per charged kWh, set a monthly flat rate or offer the charging free of charge.
How are the taxes for

workplace charging

regulated?
Workplace EV charging is usually tax-free, regardless of whether you offer it to your employees free of charge or against payment. A tax exemption removes the cost that would arise when an EV is charged at a workplace, be it a personal or company car.
PRIVATE

,

SEMI-PUBLIC OR PUBLIC

CHARGERS: YOUR CHOICE
The choice is yours also when it comes to making your charging points available to the public or solely keeping it private for your employee's use.
Private charging points are only accessible to a defined group of vehicles or drivers. For personal vehicles of your employees, company cars offered to your employees as a benefit or for your own company cars fleet.
You can also enable charging for visitors, so when your corporate customers visit your office, they have a place to charge. Private charging points are not visible to outsiders on EV charging apps.
Your charging points are semi-public if they are publicly accessible, but the use is subject to restrictions, such as opening hours. These charging points are only displayed on EV charging apps if they are available.
On the other hand, public charging points are freely accessible and usable for all vehicles around the clock. They can be found in EV charging apps and used without any restriction by all vehicles.
WORKPLACE EV CHARGING MADE EASY WITH VIRTA
With Virta's end-to-end EV charging solution, you can freely design your charging infrastructure as:
exclusively available to your employees,
or available to your employees and for charging of your company fleet,
or even operate it as a public charging network.
Virta's charging solution completely adapts to your individual needs. With the Virta Platform, you have access to an automatic billing tool, fleet management system, as well as administration and invoicing of your public charging points operations.
You get access to essential charging data that can be viewed at any time, and you can continuously optimise the capacity of your power grid thanks to Virta's energy management solutions. You also can set priority charging for specific vehicle groups that make sure the selected vehicles are always charged first and to their maximum capacity. All this without hefty investments into electrical infrastructure upgrades.
Virta takes care of the procurement of suitable charging stations and handles the logistics, installation and maintenance for you. To ensure that no extra effort is needed from your side, we'll take care of roaming integrations, customer support and much more.