Oy Sports Car Center Ab, SCC for friends, is selling luxury vehicles in Finland and Sweden. Sports Car Center has 7 sales units focusing on brands such as Jaguar, Land Rover, Jeep and Alfa Romeo. SCC Airport is using Virta's charging service to give power to the showcase cars – such as brand-new Jaguar i-Pace's.
2018 was the year when car manufacturers raced to the electro-mobility field with new car models. Luxury car brands introducing electric models also brought a need for SCC to pay attention to the charging possibilities. Other than selling fancy vehicles, SCC Airport sales unit in Finland has a maintenance service unit, where the need to charge electric cars came up for the first time. Two charging stations were installed to the maintenance service area at SCC Airport, and four charging stations at the front of the store for the showcase vehicles.
"Virta enables us to be the forerunners of our field of business. In addition to the great end-user services, we chose Virta because we needed to have a system that is easy to manage and control."

- Lauri Pulla, after sales-manager of Sports Car Center
Lauri Pulla, the head of after sales at SCC, describes that the planning, installation and commissioning all happened smoothly and in cooperation with Virta's experts. Cabling of the building was renovated during the installation process. Virta sales representatives were available and guided SCC personnel with using the charging stations and managing them with the Virta Platform.
Showcase vehicle charging stations are visible for the customers and SCC wanted to choose a service that would be suitable and inclusive also for the EV drivers. SCC was convinced of Virta's wide national charging network and digital services for the end-customers.
Currently, all six charging stations are targeted for only SCC's sales and maintenance to use, thus Virta Private was chosen to be the service of choice. Possibility to manage the stations with RFID cards, mobile app and also via Virta Admin Panel has been very useful for the employees, since managing the stations must be easy and flexible.
Sports Car Center charging stations were used intensively from the very beginning, as the four Jaguar i-Pace prototypes were charged daily during showcasing.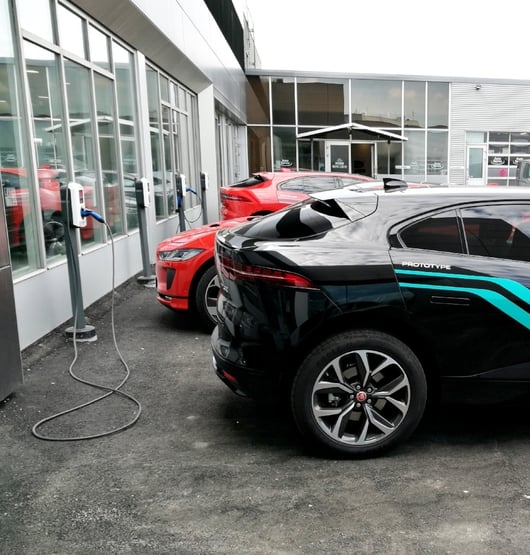 "Increasing number of our customers value sustainability and want to learn more about electric mobility and EV charging. We must be up to date and even ahead, and having smart, forerunner charging service was extremely important for us."
Cooperation with Virta will continue, as SCC wishes to be at the forefront of the development and show an example for other actors at the vehicle sales sector.
Read more about the Virta Charging Solution – including preconfigured charging stations with an integrated management platform - and get in touch with us.