The sales of petrol will decrease along with the sales of conventional combustion engine vehicles, and fuel retailers are pushed to start envisioning new income flows. Electric transportation does not have to be a threat to petrol stations – instead, it can offer new ways for the business to boom.

The ongoing change within the mobility sector is pretty much irrefutable – electric vehicles are slowly but steadily superseding internal combustion engine cars (ICEs). A similar revolution is going on in the energy sector, and just like the energy utilities, petrol retailers will have to start getting ready for an electrified future.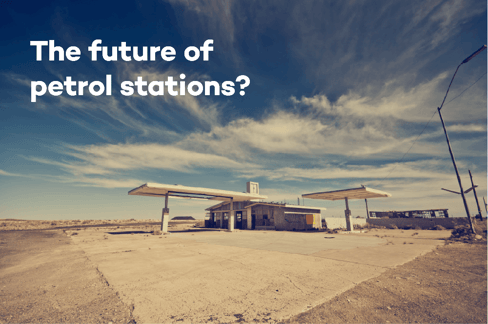 Consumers with electric cars demand stop-and-shop locations to have a charging station
According to an Accenture survey, fuel retailers see the increase in electric vehicle usage having a large impact on their business in the near future. In the next 3-5 years, 57% believe this to be the greatest influence on how the business develops, followed by the changes in consumer behaviour.
In order to survive in this changing business ecosystem, fuel retailers need to step into the new era with determination. Digitalisation, better end-customer services and new skills also go hand in hand with the electrification of mobility. As the consumers' needs and habits differ depending on countries and cultures, new solutions should serve unique customer groups. Thus, petrol retailers have to be ready to respond to the ongoing changes in digitalisation and electrification. In order to move forward with this paradigm shift, you need intelligent and future-proof solutions.
Here are 3 reasons to enter the electric car charging business with future-proof Virta solutions:

Possibility to test different EV charging business models effortlessly – for example charging service models can differ from free to time-based, kWh-based or pricing based on campaigns depending on your needs.

Learn and make decisions based on tested evidence: gain knowledge on how electric car drivers behave in your country, and change your business variables easily based on tried-and-true facts.

Short time to market – start running an EV charging service with low risks and enter the market today. Short time to market enables you to put your EV charging trial to commercial use quickly.
We have created a concept for fuel retailers to enter the EV charging business hassle-free. With Virta's solution, petrol retailers are able to step into the charging business with ease and learn as they go.
Service can be modified to fit your needs and, as a charging station owner, you have a chance to view the customer statistics and change the variables any time, rapidly. Giving consumers a possibility to charge their vehicles is a chance to grow your revenue: as the car batteries are being filled, customers also spend more time consuming your other services.
In practice, Virta's standard trial package for petrol retailers includes


2 pieces AC charging stations for outdoor use (max. 22 kW, Type 2 socket)
Access to Virta's Admin Panel: Management and reporting platform to control and manage the charging stations and change your business variables (12 months license)
Secured communication between the charging stations and management solution
1-day business and technical training
The trial package can easily and rapidly be expanded for larger commercial use. Contact us to learn more: