A new study by the world's leading management consultancy Bain & Company provides some interesting insights into the future of the EV charging business.
Although the EV charging market is still in its infancy, it is expected to grow into a large and profitable multibillion-euro market in Europe by 2030. This growth will positively impact everyone who is somehow involved – from CPOs (charging point operators) to ESMPs (e-mobility service providers).
In this blog, we've summarised everything important.
According to the Bain & Company report, the automotive and mobility industries are already being massively reshaped by the fast growth of EV sales. As countries adopt ambitious CO2 targets, the efforts are further accelerated by the Ukraine war and its effect on our need to abandon fossil fuels as soon as possible.
One major reason preventing many drivers from switching to electric is range anxiety. This common fear of being unable to drive long distances due to insufficient charging infrastructure actually turns out to be a myth.
But, if the EV market grows as expected, we will need to expand our charging infrastructure immensely. That's where a great opportunity lies for many – from retailers to real estate developers.
EV CHARGING BUSINESS TO BOOM IN 2030
According to Bain & Company, EV charging infrastructure and related services will have huge market potential in the future. Every day, more electric vehicles are roaming the roads. This will lead to a dramatic increase in EV charging business revenue in Europe by 2030.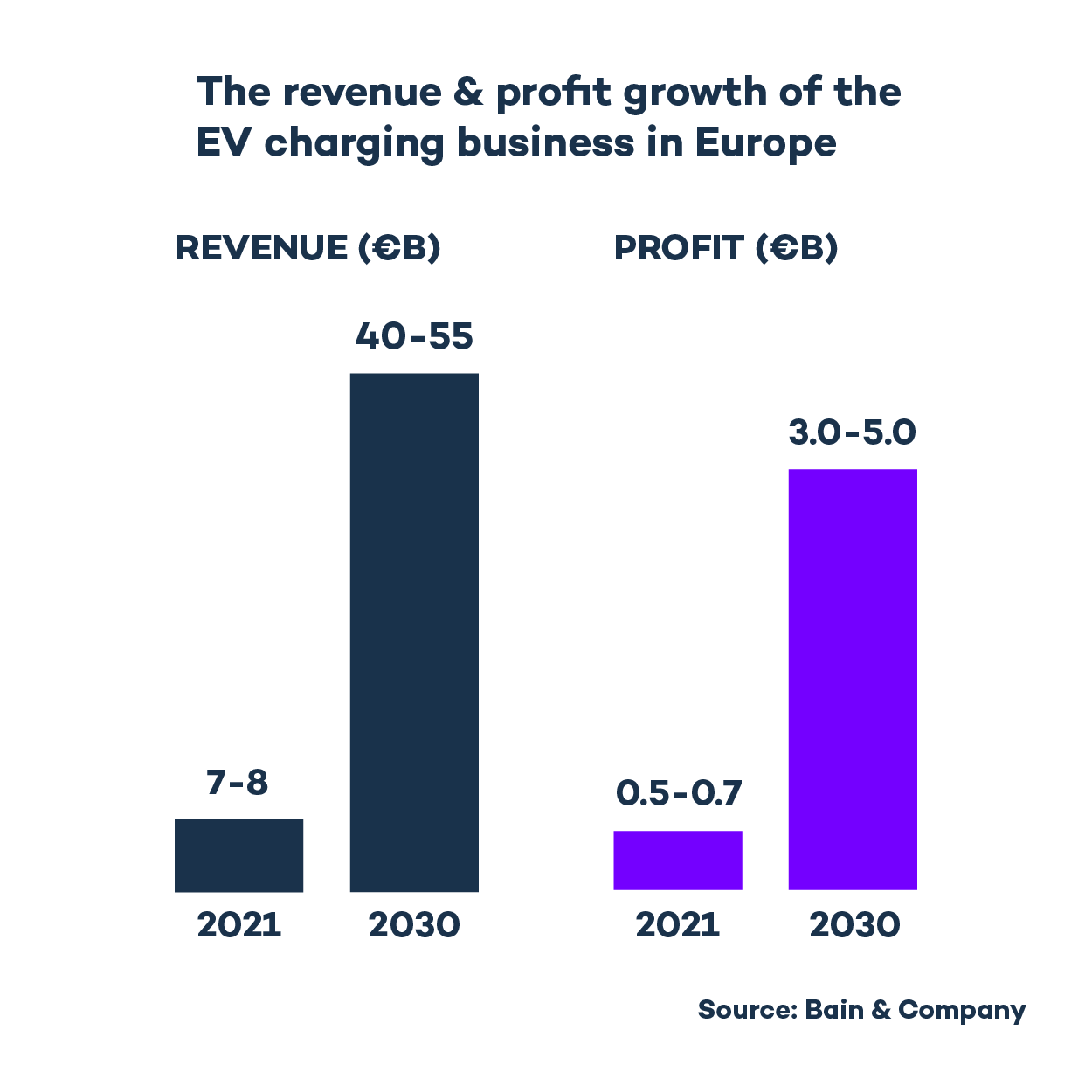 The revenue from EV charging in Europe will increase from the current 7-8 billion EUR up to 55 billion EUR in 2030. In the more optimistic scenario, this means an increase of 85%. Profits will also increase in the same proportion and amount to up to 5 billion EUR.
The market for EV charging is still in its early stages and needs a few more years to develop. Decisions and investments made now can have a significant influence on future business.
In simple terms, the time to enter the market is now.
With the Virta ROI calculator, you can find out how long it would take for your EV charging business to become profitable:
HIGHEST PROFIT GROWTH IN SMART ENERGY MANAGEMENT SOLUTIONS
According to the study, smart energy management solutions will play a major role in the profits from EV charging in the future, especially when charging at home and work.
Technologies such as vehicle-to-grid (V2G) and vehicle-to-home (V2H) are becoming increasingly important. Due to renewable energy sources such as wind and solar and their sporadic production, the energy grid can become quite volatile. V2G can provide a helping hand in stabilising the grid. Since EVs serve as 'big batteries on wheels', we can harness their storage capacity and balance the grid when we have enough of them plugged in.
By 2030, smart energy management solutions such as V2G will account for roughly 1/3 of EV charging business sales and lead the growth of the EV charging sector globally.
DIFFERENT WAYS TO SUCCESS
EV drivers can charge their cars in many different places – at home, at their workplace, at destinations such as retail stores or hotels and, of course, on the go. Each of these requires different aspects in order to succeed in the market.
Charging on the go, such as along highways, will profit through fast and super-fast chargers. Naturally, the location of those chargers will also majorly impact the profit made. According to the report, companies with well-situated fast chargers have utilisation rates of 15% or higher over the period of 24 hours.
When it comes to home charging, smart energy services will be crucial to achieving success and profit. Making the process as easy as possible for the customer, from the purchase to the installation, is another success factor.
Workplace charging will require low-cost, easy-to-operate chargers and simple payments and billing systems. Companies with corporate vehicle fleets will benefit from a comprehensive EV fleet management solution, where efficient home charging reimbursement systems will play a crucial role.
Similar to on-the-go charging, destination charging's profit will depend on the chargers' location: the more frequented location, the better. Of course, the right choice of charger for the specific location also matters. Some locations, such as hotels, will satisfy customers with AC chargers that can power up a car in a few hours. Other locations, such as fast-food restaurants, will have to implement fast DC chargers, so customers don't have to wait too long to charge.
SEAMLESS CUSTOMER EXPERIENCE IS THE ALPHA AND OMEGA OF THE EV CHARGING BUSINESS
According to the report, a seamless customer experience will be decisive for the success of the charging business. Charging at an EV charging station should be easier than at a conventional gas station.
To score points with an EV charging business, we must ensure a positive customer experience, from quickly finding the charging points and an intuitive process at the station to a smooth payment process.
Virta offers exactly that with our Charging Solution as a Business: an end-to-end solution that answers all your needs. We'll give you the hardware, the software and everything in between, from customer support to VAT handling.