Imagine a scenario: Your hotel business has a good reputation and a loyal customer base that guarantees you a certain monthly revenue. But you are looking to offer more. A service with the power to increase your occupancy rate, customer satisfaction and last but not least, your profits.
What service can allow you to distinguish yourself from the competition and guarantee regular income and satisfied guests?
You guessed it; it's electric vehicle charging!
The boom of electric vehicles is upon us
In Europe, new ICE vehicles will be banned from sale by 2035. Even though we are about 13 years away from this official ban, consumers everywhere are already choosing EVs over ICEs when buying a new car. According to EY, 52% of drivers who want to buy a car gravitate towards an EV or a hybrid car.
The growth of the EV market is faster than anticipated.
Now, to successfully support the growing EV sales, we need one thing - a sufficient charging infrastructure. The need to be able to go and charge anywhere is crucial for a successful worldwide EV adoption.
Even though range anxiety keeps being on the top of the list of reasons why consumers hesitate to purchase an EV, we can assure you that it's a myth.
Nowadays, the regulation set by the EU says we should aim to have max. 10 EVs per PCP (public charging point) for everyone to have room for charging. Currently, we're at circa 7,5. By 2030, that number could be almost 14 EVs per PCP.
As well as we're doing now, we need to increase the size of our EV charging infrastructure. And hotels can play a crucial role here.
Give your guests what they need
Today, the majority of EV charging happens at home. But there is a growing need for destination charging as electric vehicles should be driven anywhere with no problems, like ICE vehicles that can be refuelled at a gas station on almost every corner.
This presents a huge opportunity for hoteliers. Your guests are becoming EV drivers who want and need to charge at your hotels. Including EV charging in your amenities will soon be as expected as a Wi-Fi connection.
In fact, in a study we've recently run with Kantar, almost 60% of EV drivers or those who intend to buy an EV consider EV charging in hotels crucial.
.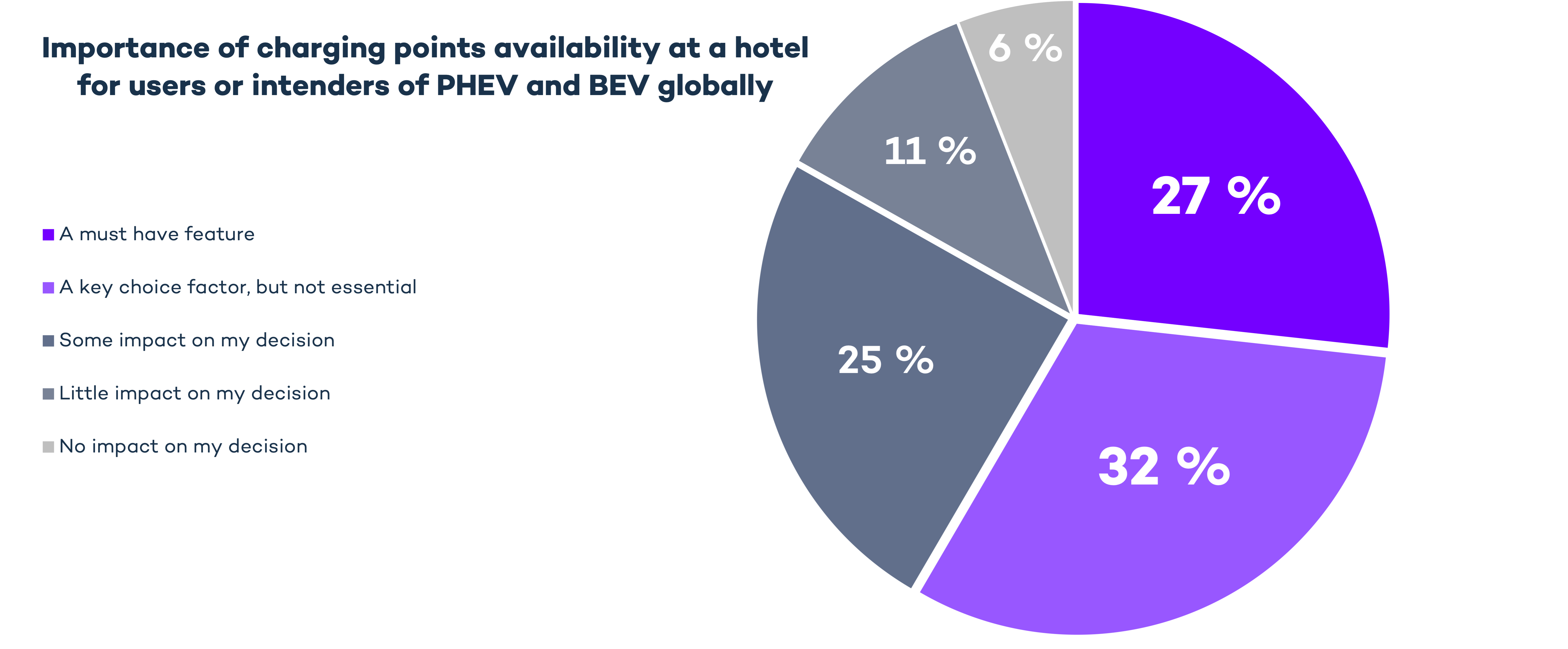 EV charging doesn't only serve your established clientele. If your hotel is located in a touristy area or close to a major road, you will quickly see new guests finding your hotel thanks to EV charging.
Not to mention, as the electrification of rental fleets accelerates, your guests will more likely rent an electric car in the future. Only hotels with electric vehicle charging will be able to serve them.
Let us take care of things
Venturing into the EV charging business means getting a foothold in the field of electric mobility and energy management - a very different story from the skills and knowledge developed in the hotel and tourism industry. Luckily, you don't have to return to school to offer an EV charging service in your hotel.
Virta has developed an end-to-end solution that covers the entire process of starting and managing an EV charging business. We support you through your EV chargers' installation and maintenance processes and handle the billing and payment processes for each charging transaction. All in all, we take care of all the nitty-gritty of running an EV charging business.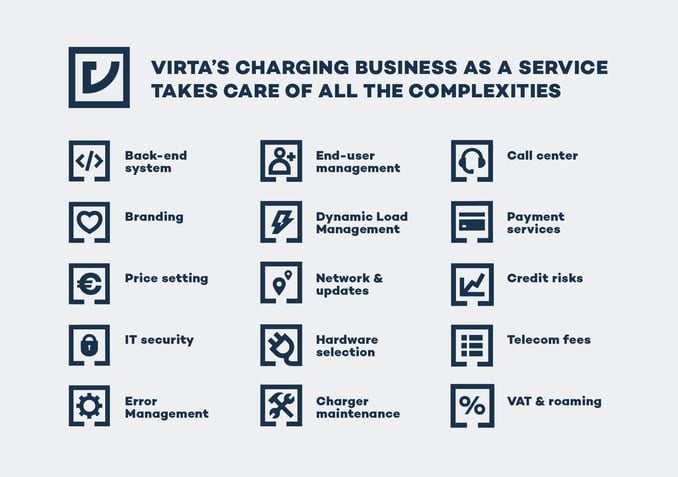 An end-to-end solution lets you focus on what's really important for you – giving your guests a good hospitality experience.
"The biggest value Virta provides to Scandic is the easiness. It's effortless for us to operate the EV chargers. We don't need to put in any extra effort to provide this service to our customers. Virta has made it very convenient for us," Mikko Henriksson, General Manager of Scandic Hotels in Turku, Finland.
EV charging with your name on it
We all know the power good branding holds for all businesses, no matter the sector. By giving your business a face, you build trust with your customers and make their experience even more enjoyable.
Branding is one of the biggest EV charging trends shaping the future of the EV charging industry as we know it.
People tend to do business with brands they know and trust.
The Virta solution enables you to integrate your brand into the charging experience of your customers.
In addition, the Virta solution allows you to collect charging and end-user data to develop your core business even further and take your customers' experience to the next level.