A positive customer experience is vital for any business. It helps you retain customers, gives them a reason to be loyal to your business and ultimately secures more profits. And that's no different in EV charging.
Nowadays, most of the charging is still done at home (approximately 80%) or at a workplace, but not every EV driver has access to a home or a work charger. Seamless charging experiences at public charging points are also crucial for the wide adoption of electric vehicles. No driver wants to deal with a big hassle when simply trying to get from point A to point B.
We've compiled a list of 5 crucial aspects of a positive EV charging experience that your customers will appreciate wherever they charge.
1. Offer an easy-to-access mobile app
In today's digital world, we use mobile apps for most of our everyday activities – from ordering our groceries to paying for parking. It only makes sense to have a dedicated mobile app for all our EV charging needs.
A good mobile app must be if nothing else, one thing: user-friendly. That doesn't only mean having a good user interface (UI) design but also having all the features customer needs.
In the case of EV charging, it means:
Having access to real-time charging station availability on an interactive map

Starting and stopping charging sessions with one swipe

Easily paying for the charging sessions

Viewing of one's own charging history

Setting up a home charging device to control charging via the app and get an overview of charging consumption

Accessing FAQ and 'how to videos' for an even smoother charging experience

Contacting 24/7 phone support
Thanks to EV roaming, which enables EV drivers to travel beyond borders and outside their own EV charging service provider's network with only one customer account, the need to download multiple mobile apps from different providers is eliminated.
2. Provide a simple payment process
Paying for an EV charging session should be as simple as possible. And you should also provide your customers with multiple payment options, from a mobile app to credit or debit card payment.
At conventional gas stations, paying for filling your car tank is simple. That's how it should be with paying for EV charging as well. No complicated systems, logging into five different mobile apps or filling in your credit card details at every charge.
Furthermore, your drivers should be able to drive beyond borders and still have an easy time paying for their charging sessions. Make sure to handle cross-border transactions so your EV drivers have the freedom to roam.
3. Ensure available and well-functioning EV chargers
Imagine driving your EV and urgently needing to charge. But when you finally arrive at the charging station, it's out of order, or its socket hatch won't open - an EV driver's nightmare. As an EV charging service provider, you must ensure that your EV chargers are available and well-functioning.
Of course, technology won't always work the way we'd want it to. Whenever a charger is out of order, automatic real-time updates about your hardware in the mobile app must be available to your customers. That way, your EV drivers know right away to drive directly to the next available charger.
4. Support your customers 24/7
During the charging session, EV drivers often have questions requiring technical expertise and efficient problem-solving. They should be able to pick up their phone and reach support, whatever the time of day is. 24/7 EV driver support is a necessary service that EV drivers require.
5. Reward your customers
EV charging can become a great part of your customer loyalty and reward schemes. Rewarding customers for plugging in and charging their EV can deepen customer relationships and build brand loyalty. Make it possible for your customers to collect points and let them earn free charging sessions.
ENHANCE YOUR EV CHARGING CUSTOMER EXPERIENCE WITH VIRTA
The Virta Charging Business as a Service solution provides your customers with everything they need for a smooth and user-friendly charging experience.
From an interactive mobile app to 24/7 support in multiple languages.
Let's talk about the primary customer touchpoint - the Virta mobile app - in more detail.
This app is the easiest way for the EV driver to access all charging stations, start and stop charging, pay for the charging events and view their charging history.
The app can also be co-branded or fully branded to your brand. Not to mention the different languages and currencies, which complete the perfect customer experience for your EV drivers.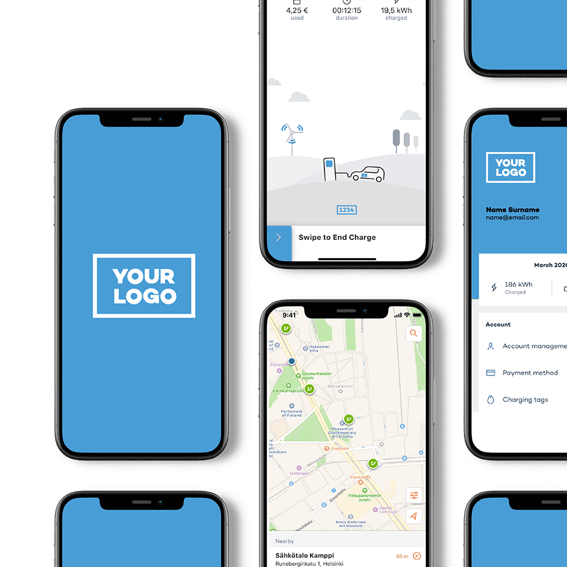 Ensuring a seamless user experience for your EV drivers is only one of the many parts of an EV charging business. At Virta, we'll supply you with everything you need to succeed, from hardware to software to other necessary services like roaming integrations.
Learn more building a successful EV charging business in our dedicated e-book ⬇️ !